Hey there. My name is Chantal.
I am a registered psychologist working with teens (and their parents) in Calgary, Alberta.
I was born in Ontario and raised here in Alberta. My family is bilingual and I am very grateful that they "forced" us to speak French growing up.
I love being this close to the mountains, nature, and in my opinion some of most amazing sunrise and sunset landscapes in the world.
One day I might trade in my winter jacket for a bathing suit and a pair of flip flops, but for now Calgary is home.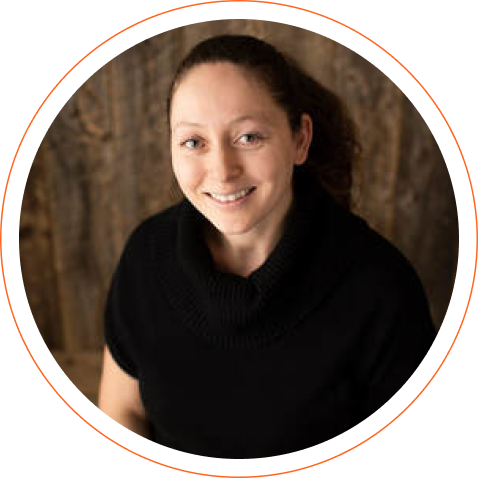 I GOT INTO THIS FIELD TO HELP PEOPLE.
My counselling philosophy is believing that people can reach their fullest potential and I have seen this over and over again in my amazing clients. All of us, at one time, have questioned our self-worth or doubted our abilities, gifts, and skills. I believe in the uniqueness of each person and finding those gems that make us human. I show up for people with gentle compassion and curiosity to explore new possibilities in our thoughts, understanding, and choices.
I offer more "traditional" styles of counselling like talk therapy, but I also offer counselling using expressive arts, movement in nature, and online counselling. I see my clients as collaborative partners in deciding what their counselling journey will be like.
The majority of my work is with older children, teens, and young adults. I love helping them discover their greatness and grow their love and compassion for their imperfectly perfect selves and their supportive relationships.
Pyramids are structures found across most civilizations. When I imagined something to represent my practice and my worldview of people, the pyramid was it. The shape of the pyramid, triangular, known as the strongest shape, represents resilience and strength. Built block by block, the pyramid symbolizes the experiences, lessons, and events that shape the person we are and are becoming. Each block has an outer and inner surface, which reminds me of the different perspectives and understandings we can hold of various events and experiences. The pyramid can have many layers and may have a pinnacle or may have an entry point to another location, this speaks to growth- that the human experience is dynamic and fluid with possibilities.
"The name reminds me of pyramid scheme"- Yes I had to go there! Perhaps the name will lead you to thinking of this peculiar and illegal business model. When weighing the options of naming the practice Pyramid Psychology for the reasons mentioned above or avoiding the name because of the possibility of the scheme association, the choice became clear to take the risk and pursue this meaningful symbol.