5 Teen Truths
I have a confession to make! 
The other day I was volunteering to build boxes for a local charity that serves those who experience food scarcity. I got paired up with a lovely teen human. The job was pretty straightforward. Fold the box. Tape the box. Label the box. So after building a  couple, you kind of get the hang of it. 
This meant we had lots of time to talk. The more I listened to my table buddy, hearing about all the things they were interested in and knew about, the more my heart felt full. Then a couple days later, one of my teen client's was telling me about their passion. She proudly shared some of her art with me. That same full heart feeling
appeared. Once again today as a parent told me how
their teen faced their fear in doing something they had been procrastinating on for a long time, the centre of my chest lit up like a Christmas Tree. 
I'm starting to sense a pattern. 
A private online community for teen girls only, with access to wellness resources such as audio clips & blogs:
My Confession:
I'm a HUGE admirer of teens. I think of the curiosity, creativity, and sense of rebellion (in a let's do it differently than the generations before us kind of energy) all bundled into one amazing vessel of potential. And, after talking to hundreds of teen girls, each is incredibly unique. Each one of you has a story to tell, experiences that have shaped you, opinions about the world, things you care about, unique taste in music, sense of fashion, relationships, etc. 
I see you. I hear you. I am Inspired.
If you:
Doubt what you have to say matters.

You're not alone

Think that adults won't pay attention or understand.

You're probably a little bit right

Hesitate because you think others will be disappointed.

 It's normal (still don't let it stop you)

Believe you don't measure up to how perfect others appear to be.

Let that go right now!

Don't think you have any great qualities or strengths.

Think again Think again
A private online community for teen girls only, with access to wellness resources such as audio clips & blogs:
There are many people like me, dedicated and equally curious about who you are and who can't wait to see how you will shape the world around you by virtue of being you. Have those people in your court! Get your name down for our soon to be online wellness hub community HERE.
Over the next couple months, we at Pyramid Psychology are focusing on all things connected to what makes you unique. Uncovering your strengths, values, skills and stepping into your spotlight. And knowing there's a group of caring, sincere, adults that are cheering you on every step of the way. 
Can't wait to meet you! 
Love, 
Chantal
---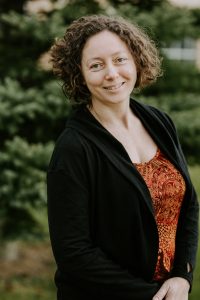 Chantal Côté (she/her) is a psychologist and teen life coach living in Calgary, Alberta. After over a decade in non-profit and community mental health, Chantal started Pyramid Psychology, a practice dedicated to supporting teens – a population she is constantly amazed by. Chantal is on a mission to help 100,000 teen girls (and their parents) build bulletproof mindsets so they can weather the ups and downs of life. As part of this goal, Chantal has had the privilege of speaking at various events – virtual and live – to support teens and parents.
Outside of this passion, Chantal is often in nature, writing poetry, playing ball hockey and hanging out with her loved ones.
Each week, Chantal writes a blog article in response to issues she hears from the parents and teens she connects with.
If you have something you'd like to read more on – email ideas and questions to info@pyramidpsychology.com or DM us via Instagram or Facebook.