5 Ways to Fortify Your Parent Relationship With Your Teen Daughter
The #1 question I get from parents in sessions is "how can I strengthen (AKA fortify) my parent relationship with my daughter?". Your daughter's teen years are an exciting time or growth and independence… And it can also be a terrifying time when you feel like you're in the dark and disconnected from her.
How to Raise Unbreakable Teen Girls: A guide for parents wanting to raise confident, resilient young women in today's world. CLICK HERE FOR FREE DOWNLOAD <<<
9 tools you can immediately use to improve your teen's mental health, strengthen her relationships, and boost her confidence.
Guide to Raise Unbreakable Teen Girls
Raising a teen is not easy and I'm smack dab in the middle of it as I write this. I remind myself every day that the relationship with
him matters more now than ever.
And yet… As I wait for my my son in the dentist's office, ocean dreams with colourful fish swimming through the waters playing on the TV monitor, I find myself strangely at ease. 
Words you need to hear as a parent of a teenage daughter:
5 Ways to Fortify Your Parent Relationship With Your Teen Daughter
#1 – Give yourself some grace and kindness
The world of adolescence is complex and filled with more questions than answers. How do you know if you're doing the right thing? How do you guide them to make smart decisions? How do you help them when they're struggling? 
Wheeewwwww – take a breath with me – it can be heavy. You are not alone and you are doing the best you can with what you know right now. Start there 🧡

#2 – See the world through their eyes
Remember what it was like to be 12? 16? Imagine what it's like to be 12 or 16 today…. Imagine what it's like to be your daughter right now. 
I become like the grinch at the end of the movie when I think of this. My heart grows 3 times bigger. 
#3 – Learn to Speak her love language 
Not everyone shows and receives love in the same way. Even in families, there can be big differences in how each member displays their affection and care towards each other.
Take a minute to learn yours and your teen daughter's love language. It'll go a long way in bonding your relationship. You can both take a free quiz here to get started: Love Languages Quiz.
#4 – Say yes to connecting
Her timing might be off sometimes. Her desire might be little. Her sharing might be spontaneous. What's more, you might not be in the mood for a heart to heart. 
But I promise those moments, no matter how small or brief, make such a huge difference.
Whether it's a high five, a smile, sharing a Matcha tea together, or talking about her hopes and dreams while lying side-by-side in her bed, say yes to connect.
#5 – When all else fails, Laugh. 
Humour has the power of diffusing tense situations. It has the potential of opening doors around sensitive topics. It has the possibility to
change moods and uplift. It has the potency to  release stress. It has the power to connect and the gift of perspective. 
Obviously, laughter is not the solution to everything but bringing some levity and lightness to any relationship can bring more ease.
Find that playful part of you, maybe tucked away deep inside. Give yourself permission to laugh at yourself once in a while, make light of something that brings the two of you together, and help your daughter find the "not so serious" about things at times.
Some final words that stuck with me the other day-. 
"You will teach them to fly, but they will not fly your flight. You will teach them to dream, but they will not dream your dream. You will teach them to live, but they will not live your life".- Raising Teens Today 
Love,
Chantal
Psychologist, Teen Life Coach, and Founder of Pyramid Psychology
An eBook with 10 mental health exercises every teen girl needs to know to:
Boost happy hormones naturally
---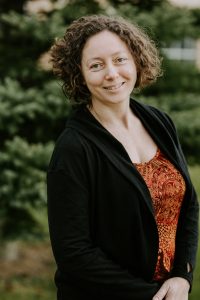 Chantal Côté (she/her) is a psychologist and teen life coach living in Calgary, Alberta. After over a decade in non-profit and community mental health, Chantal started Pyramid Psychology, a practice dedicated to supporting teens – a population she is constantly amazed by. Chantal is on a mission to help 100,000 teen girls (and their parents) build bulletproof mindsets so they can weather the ups and downs of life. As part of this goal, Chantal has had the privilege of speaking at various events – virtual and live – to support teens and parents.
Outside of this passion, Chantal is often in nature, writing poetry, playing ball hockey and hanging out with her loved ones.
Each week, Chantal writes a blog article in response to issues she hears from the parents and teens she connects with.
If you have something you'd like to read more on – email ideas and questions to info@pyramidpsychology.com or DM us via Instagram or Facebook.