Many of the teens I work with have used self-harm as a coping behaviour. Teens might feel like their parents "don't get it" and like it is the only coping mechanism that is providing some temporary relief. It can be terrifying for parents who discover this and feel unsure on how to help with their teens pain and suffering.
If you are a concerned parent of a teen who is self-harming, this blog will talk about the what's, the why's, and the how to help.
WHAT IS SELF-INJURY AND SELF-HARM?
Self-harm and self-injury can be used interchangeably and they are behaviours such as cutting, hitting, scratching, pulling out hair, punching hard objects, etc. Any behaviour that causes injury to one's body can be considered self-harm. This is different than participating in a high risk activity that may cause self-injury in that the purpose of self-harming behaviours is to cope with psychological pain and overwhelm. Cutting is one of most prevalent methods of self-harm in adolescents at this time.
WHY DO PEOPLE SELF-HARM?
We know that self-harming behaviours are used as a coping method to deal with psychological pain and overwhelm. Sometimes parents will ask me, "is my teen doing this to get attention?". Well the short answer is: Maybe. Not attention in the way of "look at me" but more so a cry for help or a way of saying "I'm really struggling right now".
Other times, parents will wonder if their teen is trying to complete suicide. Most often suicide is not the desired outcome. Teens who are self-harming may also have thoughts of suicide, but the self-harming behaviour is not usually intended as a lethal means.
So then, why? Well most often self-harming behaviours are used as a way to get relief in managing psychological pain. Whether it is to numb, express, or release pain or a way of gaining a sense of control over emotional overwhelm, these are usually the reasons people turn to self-harm.
The problem with this type of coping is that it provides temporary relief, meaning the psychological pain and overwhelm come back, which keeps a person in a cycle of self-harm. Also, physiologically there is a release of neurotransmitters and endorphins that are linked to that sense of relief. The more a person engages in self-harming behaviours, the more the body habituates and people tend to need to do more of the behaviour in order to get the same physiological response.  This means higher risk in the behaviour, such as deeper or more cutting, and this can lead to dangerous outcomes and unwanted consequences (e.g. infection, scarring, etc.)
HOW YOU CAN HELP WHEN YOUR TEEN IS SELF-HARMING
The first thing is to take it seriously. The sooner you can respond with caring and empathy, the quicker you can turn around this coping strategy. If your teen is scraping their legs or rubbing themselves really hard in response to a situation, this still warrants your attention in a real way. You can help early on and avoid the behaviours from escalating into something worse. Responding with caring and empathy can include: 
Letting your teen know you have noticed the behaviour

Letting your teen know you are concerned

Letting your teen know they do not have to feel shame about this but it is important to get some help and get to the root

Letting your teen know you are there for them and want to help

Asking your teen about the behaviour

Asking your teen about what's going on, their feelings, things they are struggling with, etc.
After that, come up with a plan (with your teen) to help them stay safe and reduce the risk of self-harm. Consider using the TTURN acronym to help TTURN things around. 
T – Tell a trusted adult 
(get your teen to name 3+ adults they can talk to if they have the urge to self-harm, e.g. parent, teacher, coach, relative, etc.)
T – Tag your triggers 
(ask about things, people, situations, and emotions that increase the urge to self-harm)
U – Up your self-care 
(get your teen to collab on a list of things they enjoy doing or people that bring them comfort, e.g. reading, listening to music, going for tea, hugs, doing their hair, exercising, hanging out with friends, etc.)
R – Replacement behaviours 
(understanding why your teen is using self-harming behaviours will help you come up with alternative behaviours that have less risky consequences. For example, if it is about numbing pain which releases endorphins, look at some behaviours that release endorphins such as, exercising, punching a pillow, eating dark chocolate, laughing, etc.)
N – Negotiating Harm Reduction 
(come up with ways to reduce the risk such as making sharp objects less accessible, having them pain or draw on the body parts instead of injuring, using rubber bands or ice instead of sharp objects, etc.)
Third, consider working with a therapist for additional support. The root cause of self-harming behaviours may be related to managing feelings such as anxiety, fear, stress, anger, depression etc. It may also be related to larger mental health concerns or a lack of coping tools and strategies. A therapist can work alongside your teen (and your family as needed) to help them develop other strategies and offer them a safe place to express their thoughts and emotions.
As a therapist myself, I can support you and your teen with creative sessions in person, via video, or walk and talk appointments. I use hands-on methods to support your teen to communicate through their self-harm. You can book a free consultation with me here.
---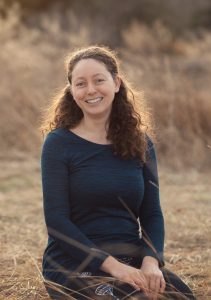 Chantal Côté (she/her) is a psychologist and teen life coach living in Calgary, Alberta. After over a decade in non-profit and community mental health, Chantal started Pyramid Psychology, a practice dedicated to supporting teens – a population she is constantly amazed by. Chantal is on a mission to help 100,000 teen girls (and their parents) build bulletproof mindsets so they can weather the ups and downs of life. As part of this goal, Chantal has had the privilege of speaking at various events – virtual and live – to support teens and parents.
Outside of this passion, Chantal is often in nature, writing poetry, playing ball hockey and hanging out with her loved ones.
Each week, Chantal writes a blog article in response to issues she hears from the parents and teens she connects with. If you have something you'd like to read more on – email ideas and questions to info@pyramidpsychology.com or DM us via Instagram or Facebook.