What is Stress?
A breakup, a big test, talking in front of the class – you know exactly when you feel stressed. There are certain situations that probably really rev up your stress levels and you can see them coming from a mile away. Then there might be other times when stress either creeps up or slams into you like a semi-truck.
Stress is your body and brains' response to the outside world. Whether you're taking a test, meeting a new person, talking to your crush, playing your sport, or performing in some way, stress is basically anything that is put through your brain computer and interpreted as tense, straining, scary, or pressuring. Your brain interprets stress in microseconds.
What you find stressful may not be the same thing as what your friends or parents find stressful. But, there are some situations that our brains are wired for from an evolutionary perspective, like rejection, that most of us feel some stress around. Public speaking and speaking up for ourselves or others are pretty common ones.

What is Happening in the Body?
When your brain detects something that feels like a threat (emotional, psychological, physical) it flips on the stress response. You might notice your heart start to race, your breathing change, your body feeling tense, sweaty, or shaky. You may be feeling nervous, like you're in a fog, or like you notice everything on hyperdrive (ex: everyone is staring at me.)
If you think about this response in a real life-threatening situation, it's actually a really good thing! You would want to be noticing dangerous things and be tense and ready to run or fight. But in the case of meeting a new person or eating in front of your friends, this stress response is….. Kind of a bummer.
How Can We Flip The Switch On Stress?
Everyone gets stressed. It's totally normal and can be a good thing. Thinking of stress on a continuum (like the one above) can be really helpful with green, yellow, and red zones, or like a 1-10 kind of thing.
Some amount of stress actually helps your brain and body focus, be alert and ready for things – so that could be really good if you're taking your drivers test and want to be paying attention and alert or you're in a playoff game and you need to be focused, muscles tense, engaged and ready to perform.
If you start to look at stress as an opportunity to get better at handling stress, you will actually be better at managing stress. The kind of stress that is an opportunity is sometimes called adaptive stress and this would be your green zone stress. These situations help build your stress muscle to become more resilient, more able to handle stress. You know you're in your green zone when you are having a stress response, you're able to handle it, you get through the stressful thing, and the stress goes away.
There is also the yellow zone stress, this is stress that lingers a little more. So even when the thing is done, the stress is still there. Sometimes things like moves, family changes, breakups (friends or relationships), or a death can be considered yellow zone stress. And sometimes people who have become fearful of certain things – like speaking in front of the class or test taking – end up feeling like these are more like yellow zone stress until they learn ways to manage that stress better.
Red zone stress is the kind you want to avoid as much as possible – it's sometimes called toxic stress. When your body and brain are flooded with stress continuously, it can actually change the way your brain is wired. Stuff like abuse, neglect, and violence fit into this zone.
Why Should I Pay Attention To Stress? 
So now that you know stress happens to everyone, and stress is not always a bad thing… When should you pay attention to stress a little more? Here are some signs you need to pay attention to your stress:
​If stress is moving into "all the time" territory and you're constantly feeling stressed.
If stress is extreme and affecting your mood – so if you're feeling aggression/anger, anxiety, overwhelm, depressed, unable to get out of bed, really down, shutdown, etc.
If stress is causing physical symptoms like headaches, stomach aches, lack of appetite, or disrupting sleep, it's time to pay attention. Butterflies in your stomach and sweaty palms don't count, especially if they are temporary.
If stress is affecting your social life like your friendships, family relationships, school success, etc.
If your stress coping behaviours are risky like drugs/alcohol, self-harm, restricting your eating or binging, binging on social media to numb out, totally avoiding people or things, etc.
6 Things You Can Do Today To Better Manage Your Stress:
1. Notice Your Stress – pay attention to what's happening in your body and brain and dial in to your green, yellow, red zones. The more you recognize this, the more you can choose to do something about it. If you notice yourself ramping up, you can stop and use your coping skills and resources and reach out to your supports as needed.
2. Organization and Planning Skills – make your stress more manageable by getting stuff in order – organizing your space, reminders, lists, using a calendar, planning ahead, breaking tasks down into smaller chunks can be super helpful.
3. Relaxation Strategies – practice calming yourself every single day. Some ideas you can use are breathing techniques, mindfulness, meditation, yoga, journaling, having a drink of water, slowly counting to 10.
4. Express Your Stress – stress has a lot of energy behind it so don't keep it bottled up. Try working out, sports, writing, singing, art, talking to someone, taking a nap, listening to music.
5. Make Stress Work For You By Using Mindset Stuff – working on your thoughts and beliefs about things that are stressing 6out this? Am I actually in danger? Can I laugh with myself about this right now or after?
6. Enroll in Stress Buster Bootcamp – I have created a bootcamp that includes one month of daily texts for you, with a different tip, tool, or resource to managing stress in each text. Your parents will receive a weekly webinar so they can support you better, too. You or your parent can email info@pyramidpsychology.com for details.
So now you are ready to take on stress and even allow it to be your friend sometimes. If you are looking for more ways to be the boss of your stress, sign up from our Stress Busting Bootcamp, where you will get 28 audio text messages with different ideas and information on how to manage stress, PLUS 4 webinars for parents (and teens if they want) to learn all about stress.
Love,
Chantal
---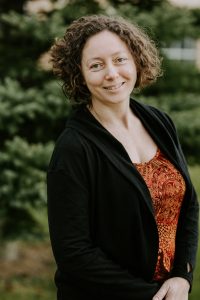 Chantal Côté (she/her) is a psychologist and teen life coach living in Calgary, Alberta. After over a decade in non-profit and community mental health, Chantal started Pyramid Psychology, a practice dedicated to supporting teens – a population she is constantly amazed by. Chantal is on a mission to help 100,000 teen girls (and their parents) build bulletproof mindsets so they can weather the ups and downs of life. As part of this goal, Chantal has had the privilege of speaking at various events – virtual and live – to support teens and parents.
Outside of this passion, Chantal is often in nature, writing poetry, playing ball hockey and hanging out with her loved ones.
Each week, Chantal writes a blog article in response to issues she hears from the parents and teens she connects with.
If you have something you'd like to read more on – email ideas and questions to info@pyramidpsychology.com or DM us via Instagram or Facebook.