When it comes to the school break and the boredom that settles in over the summer, it can be helpful to see it as an opportunity to do something completely different. The good news about summer break is that if you try something new and find out it's not for you, you will be back to school in September anyways!
An eBook with 10 mental health exercises every teen girl needs to know to:
Boost happy hormones naturally
Speaking for myself, it can be really easy to talk myself out of doing things. I have also heard similar thoughts from the teens and young adults that I work with:
"I might not like it…"
"It sounds kinda weird…"
"I've never done anything like that before."
"I wouldn't be very good at that."
"I don't have time for it."
"I don't want to commit to something I may not enjoy."
(If this sounds like you – trust me, having someone by your side can make a world of difference! Book a free consultation with me to help keep you accountable to trying new things, and work out a plan to overcome your fears).
The list of reasons to not do something can go on and on.
With having no school, the reality is that you DO have time to try out new things. The new thing might be "weird", but you might enjoy it or enjoy parts of it. You also don't have to be good at it because that's not the point.
What is the point? Well, that depends on the person. Maybe it is to learn more about yourself and to find new sparks. Maybe trying new
things feels scary and you are proving to yourself that you can step outside of your comfort zone. Or maybe it is just a willingness to try, experience, and be open-minded to what the world has to offer.
That's why the summer months can be the perfect opportunity to try out something new and completely different than what the rest of the year may look like. The popular saying "you don't know until you try" exists for a reason. In trying something different, you may even be surprised at how much you enjoy it!  
Trying something new can look completely different for different people. Here are a few ideas to get the brain juices flowing, but it is not an exhaustive list.
5 Ways to Beat School Break Boredom
#1 – Be a tourist in your city
I like this idea. There is so much that Calgary (and Alberta) has to offer, whether it is visiting typical tourist spots, supporting local businesses, or getting out to the mountains. Write down a bucket list of things you want to check out and be intentional with crossing off some of those items. Involving friends and family can also be a lot of fun.
#2 – Volunteer or find a part-time job
There are a lot of benefits to both volunteering and working part-time. These experiences can teach new skills and independence, and volunteering in particular can improve overall wellbeing.
#3 – Slow down
Our society can be very go-go-go. Taking some time to slow down, self-reflect, and enjoy simple pleasures can be a new experience for a lot of teens. For some, this looks like journaling, but it doesn't have to be.  If journaling sounds interesting to you, here's a fun website with 61 journal prompts. You can also use prompts as conversation starters with other teens, or people in your family!
#4 – Try a completely different hobby
As a few examples, if you like sports, it could be fun (or at least interesting!) to try out something artistic or creative. If you like social media and video games, maybe you could try something outdoors or more active. Other options could include cooking, something crafty, re-finishing projects, learning about a new topic, and so much more.
#5 – Take an existing interest to the next level

As a few examples:
If you love animals, consider volunteering at the Calgary Humane Society or one of the numerous organizations in the city dedicated to animal welfare.

If fashion is an interest, maybe learn to sew or volunteer with an organization that helps others learn to sew.

If you like sports, there may be summer camps or clubs that run throughout the summer to help further develop those skills.
One of the things I help teens with, is coming up with things they'd like to try over school break. Together, we work out what you'd like to try, possible blockages in the way (like fears coming up), and the logistics of trying something new. If you'd like the support, book a free consultation with me here (Alberta youth age 11 – 21).
An eBook with 10 mental health exercises every teen girl needs to know to:
Boost happy hormones naturally
There are so many options to look into depending on your interests. What your interests are, your mindset, and your choices can all make a big difference. Summer does not have to be boring. It really can be quite the opposite!
And, if you're a teen with anxiety, summer can often be even harder. Here is a blog written by our Founder, Chantal, with 10 ways parents can help anxious teens enjoy their summer.

It is normal to want human interaction, and to get support, when you are trying something new. Consistent appointments with a therapist (like me) can give you a strong foundation to feeling confident, getting out of your comfort zone, and overcoming fears. Book a free consultation with me here.
Love, Jessa
---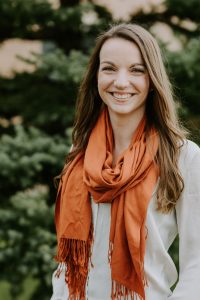 Jessa is a registered psychologist living and servicing teens and young adults in Calgary, Alberta.
Jessa is passionate about helping people become the best version of themselves and is continually learning how to best support her clients. She has experience with acceptance and commitment therapy (ACT) and cognitive behavioural therapy (CBT), but most importantly she emphasizes the therapeutic relationship.
A safe, authentic relationship is key for therapy to work. Jessa prioritizes compassion and nonjudgmental curiosity. Together, she can find out what matters most to you and how to get there.
If you think Jessa may be a good match for you, please feel free to reach out and set up a free consult or book a session. She is looking forward to hearing from you!
Once a month, she writes a blog article in response to issues she hears from the parents, teens and young adults she connects with. If you have something you'd like to read more on – email ideas and questions to info@pyramidpsychology.com or DM us via Instagram or Facebook.