7 Steps to Handle Big Teen Emotions
If you're a teen looking to manage big emotions, this blog article is for you.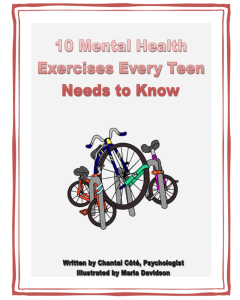 An eBook with 10 mental health exercises every teen girl needs to know to:
Boost happy hormones naturally
Is there a big feeling that you have been experiencing recently? Anger? Sadness? Frustration? Loneliness? Guilt?
It's hard to be a teen. There are so many things going on in your life and sometimes it can feel like no one understands you.
As a teenager, there are many ways to manage these big feelings and sometimes it might feel as though these are taking over your life. If you're looking for ways to manage some of these big emotions, read on!
7 Steps to Handle Big Emotions
It's time to use your creativity and imagination. Let's do an exercise together…..
Step 1: Pick one emotion that you have recently been feeling. As an example, I'll pick sadness.
Step 2: If you had to imagine what sadness looks like, what shape would it be? What colour(s) is sadness? Does sadness look big or small? 
Tip: You may be thinking, what is this blogger talking about?! Stay with me and experiment!
Step 3: To the best of your ability, draw sadness on a blank sheet of paper.
Tip: Have you watched the movie Inside Out? Perhaps this will give you some ideas on how to draw the emotion that is currently visiting you.
Here are some examples to spark your creativity:
Sadness:
Anger:
An eBook with 10 mental health exercises every teen girl needs to know to:
Boost happy hormones naturally
It is natural for teen feelings of self-acceptance to fluctuate over the course of your life, especially as you work through the teen years. You are continually evolving and growing! Remember that self-acceptance is a journey. 
The practice of meditation is unique to each individual. One person will not have the same experience as another, so don't compare yourself to anyone else as you go down this path.
Step 4: Now, write the following answer to these questions beside your drawing:
When does sadness grow?

When does sadness shrink?

When does sadness visit less often? More often?

When sadness is around what are you doing? 

If sadness was not around, what would you be doing?

When was a time when sadness disappeared? What were you doing before it disappeared? What were you doing after sadness disappeared? What did you do to help sadness leave?
 Step 5: If you feel comfortable, share the drawing with someone special in your life. Talk to them about the answers to your questions. Perhaps there is an opportunity to ask them these same questions. If you are working with a therapist who works with teens, like the therapists at Pyramid Psychology, ask them to talk to you more about your drawing and the answers to some of the questions above.
My colleague wrote an article to help you decide if teen therapy is a good option for you: 4 Ways To Tell If Teen Therapy Is For You.
Step 6: When sadness comes to visit you again, pull out this drawing or picture it in your mind. Sadness may visit for a while. Pay close attention to when sadness grows and when it shrinks. What did you do before and after? 
Step 7: Keep the picture of sadness with you in your backpack or store it safely at home. Take a look at it when sadness appears. Over time, the answers to your questions might evolve – that's a natural part of dealing with big feelings.v
If you have any questions about teen emotions, shoot me a note and we can connect 🙂 My email address is fazilah@pyramidpsychology.com
If you are an Alberta, Canada resident you can also book a free consultation with me HERE.
Love, Fazilah
Registered Social Worker with Pyramid Psychology
Helping 100,000 Teen Girls Build Unbreakable Mindsets
An eBook with 10 mental health exercises every teen girl needs to know to:
Boost happy hormones naturally
---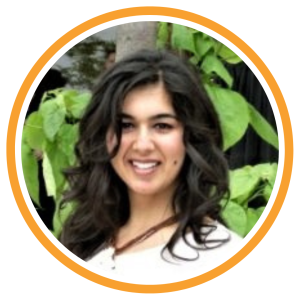 Is your teen having challenges navigating their current circumstances? Do you want your teen to obtain the skills and tools they need to navigate the peaks and valleys that come their way?
Are you looking for someone who can support your teen to step into their spotlight, have great relationships, and find their confidence? I speak teen. My strength is connecting with and relating to teenagers. I strive to provide a balance of learning and laughter during my sessions. Teens need a coach and therapist who they can trust to talk to about the hard stuff in their lives.
I work with teens from a range of life experiences and backgrounds. My specialities include working with teens who identify as BIPOC (black, indigenous, and people of colour) and/or LGBTQIA+ (lesbian, gay, bisexual, transgender, questioning, intersex, asexual, and more).
I have a Master of Social Work and a Master of Health Administration. I am also a Registered Social Worker. I have worked across the healthcare sector and served on numerous boards of directors for not-for-profit organizations.