4 Depression Tips for Teen Girls
I am going to share 4 depression tips for teen girls, to help turn things around for you.
But first, I want to explain something… A theme in dialectical behavioural therapy (DBT) is that emotions love themselves. What does this mean, exactly?
Well, if you are feeling down and depressed, you are going to naturally want to do things that actually keep you feeling that way (or even make the feeling stronger!). For example, if you are feeling down, then you are likely to withdraw from others, maybe spend a lot of time in bed, or start listening to sad music.
As another example, if you are feeling angry, then you may have an urge to get into an argument with someone, slam doors, or even break something.
An eBook with 10 mental health exercises every teen girl needs to know to:
Boost happy hormones naturally
When it comes to depression for teen girls, the feelings can be really strong, and motivation can be pretty low. Becoming more aware of how feelings of depression may end up leading to stronger feelings of depression is important to understand, because then we can start see how we can get stuck in a negative spiral. Here are a few tips to keep in mind if you are a teen struggling with depression!
4 Depression Tips for Teen Girls:
   

Try to have some kindness and compassion for yourself. Judging yourself harshly for having certain feelings or struggling to complete certain tasks only makes things worse. What might you say to a good friend who is struggling with depression? What would it look like for you to accept some of this advice?


   

Try to be curious about your emotions. Context matters, and our emotions are trying to tell us something and influence our actions. If

you are feeling depressed, how would you be able to tell the difference between genuinely needing some time alone versus getting stuck in an emotion-loving-loop of withdrawal? Emotions do not like to be ignored, and spending some time being mindful and curious can help us choose our next step. (If you'd like help naming your emotions, here is a printable emotions wheel).

   

Sticking with the DBT theme, a strategy I sometimes introduce in my sessions is called the "opposite-action". So, if you were feeling down or depressed, and the actions you were naturally drawn to were to withdraw or isolate, what would an

opposite

action look like? For some, it may be reaching out to a friend, or going for a walk, or practising self-care like taking a shower. What could it look like for you?




   

Make your next step so attainable that it is almost impossible to refuse. Sometimes we can get stuck by wanting everything to change at once, which is a good way to feel overwhelmed and keep the negative spiral going. What is one, small thing you can change today?
These are only a few ideas that come to mind to support you if you are struggling with depression – there are so many more resources out there.
The first way to start is to know that change is possible!
The second is to know you are not alone. There is support for you. START HERE TO GET HELP WITH DEPRESSION.
Love, Jessa
EMDR Certified and Registered Psychologist serving Alberta teens and young adults with Pyramid Psychology.
PS – Anxiety often goes hand in hand with depression. If you are experiencing anxiety, you can learn some valuable tips with our blog article: Anxiety and Choice.
An eBook with 10 mental health exercises every teen girl needs to know to:
Boost happy hormones naturally
---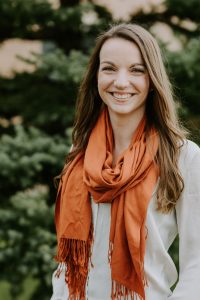 Jessa is a registered, EMDR certified psychologist living and servicing teens and young adults in Calgary, Alberta.
Jessa is passionate about helping people become the best version of themselves and is continually learning how to best support her clients. She has experience with acceptance and commitment therapy (ACT) and cognitive behavioural therapy (CBT), but most importantly she emphasizes the therapeutic relationship.
A safe, authentic relationship is key for therapy to work. Jessa prioritizes compassion and nonjudgmental curiosity. Together, she can find out what matters most to you and how to get there.
If you think Jessa may be a good match for you, please feel free to reach out and set up a free consult or book a session. She is looking forward to hearing from you!
Once a month, she writes a blog article in response to issues she hears from the parents, teens and young adults she connects with. If you have something you'd like to read more on – email ideas and questions to info@pyramidpsychology.com or DM us via Instagram or Facebook.