Is teen therapy right for your teen?
Your teen is blowing up and locking themselves in their bathroom for hours. You notice their motivation is at 0%, their mood is really low, and they are either telling you about their problems or keeping a tight lid on the struggle.
You are concerned about their body image, self-esteem, friendships, anxiety and negative thoughts.
You are noticing behaviours that are freaking you out… 
Know that a lot of this is normal.
However, normal doesn't mean easy and it doesn't mean it can't change.
If you're in a hurry, you can catch the four factors in deciding if teen therapy is right for your teen, in this short video from our Founder, Psychologist & Teen Coach Chantal Côté here: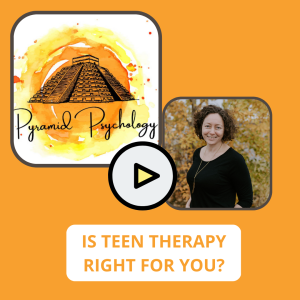 Here are four ways to tell if teen therapy is right for you:
1. Teen Therapy Factor #1: Current Supports
Take a look at their natural supports. Who does your teen have in their life that they can open up and talk to? That can be you, another relative, a teacher or a coach –
think of adults in their life that are natural supports they may look up to. Also consider people their age, a group of friends, or a club they may be part of; other teens they can talk to, have fun with, etc.If you've checked off a few of the people listed above, that's a really good thing!
If you're struggling to think of people your teen can trust and feel safe around, that's a really good sign that teen therapy would be super beneficial.
Two of our team members here at Pyramid Psychology are currently taking on new clients. Alberta, Canada residents can book a free 20-minute session with Chip Bvindi or Jessa Tiemstra here:
Book A Free Consultation
2. Teen Therapy Factor #2: Concurrent Stressors
Consider what your teen's current stressors are. Of course, every teen will have some level of stress all the time! But really take a look at things a little deeper. Are there significant changes happening in your teen's life right now? Think about things like family life, school, friendships, relationships, gender, identity, sexuality,
body image, self image in general, etc. Is there something going on in one of these areas that's adding stress to your teen? Is something making things a little more complicated for them?
If you said 'yes' to any of the possible stressors above, this is an indication that teen therapy is a good resource for your teen.
You can book a free consultation with Jessa Tiemstra or Chipo Bvindi here:
Book A Free Consultation
3. Teen Therapy Factor #3: How Much The Problem Is Disrupting Daily Functioning
Are the stressors your teen is facing affecting their daily life? Here are three indications that your teen's daily life is being affected:

Your teen struggling to get out of bed in the morning.

You hear your teen crying themselves to sleep most nights (or they tell you about it).

Your teen is engaging in maladaptive behaviours, like constantly being on their phone or pulling away from reality.
If these things are happening regularly for your teen, it is an urgent sign that connecting them with someone else (1:1 therapy) is very important.
If, however, your teen is experiencing these things only from time to time, it may be part of regular stress.
If you're not sure how often "time to time" is, and how often it would be considered an issue, book a free consultation with Chipo Bvindi or Jessa Tiemstra and we will ensure 1:1 therapy is the best option for your teen:
Book A Free Consultation
Teen Therapy Factor #4: Current Coping Strategies
Last, but not least, taking a look at your teen's coping strategies can help determine if they are needing extra support, or if they already have what they need to handle their stressors independently. Does your teen have activities they like to do that fills their time and lifts their mood when they are struggling? Looking at how connected your teen is to community is helpful here too – are they part of a group or organization they can reach out to, that connects them to others, and makes them feel good + safe? Does your teen have things they turn to in times of stress, like movement or art? Think about how connected your teen is to their emotions – can they name their emotions and name what they need to help? Does your teen take action when they are feeling overwhelmed, stressed, anxious, or depressed? Or
do they let their emotions drag them down?
If you read the above paragraph and have listed several coping strategies your teen utilizes on a regular basis, they are likely well on their way to independently handling their stressors!
If you noticed your teen could use some more support in this area, it's a good idea to reach out to one of our therapists. One of the things Jessa Tiemstra and Chipo Bvindi work to do in their sessions, is discovering what coping skills your teen already possesses, and then build on these skills with personalized strategies.
Book A Free Consultation
Here is a little information on the therapists we currently have available to support your teen:
Jessa Tiemstra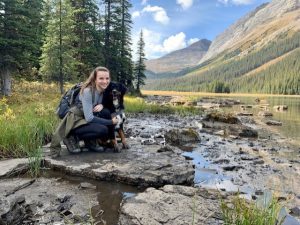 Hi there! My name is Jessa.
I am a provisional psychologist working with teens, parents, and young adults in Calgary, Alberta. I am passionate about helping people become the best version of themselves and am truly honoured to work in this field.
When I am not working, I have a range of interests that keep me busy. I love animals and have a dog and a cat that both like a lot of attention (both tri-coloured and fluffy!) I also enjoy plants, being outside, cooking, baking, crafty activities, going for walks, and video games.
I love spending time with family and friends but am an introvert at heart so quieter nights at home are good too.
I have called Calgary home for most of my life and love living here. Being a provisional psychologist lets me invest back into a place I am proud to call home.
You can book a free 20-minute call to get to know Jessa here:
Chipo Bvindi
Hello there!
I am a registered social worker with a Bachelor of Social Work with a major in psychology from the university of the Western Cape, and a Master's in Clinical Social Work specialization with individuals, families, and groups from the University of Calgary.
In my practice, I note the different intersectionalites that come into play, and I have adapted myself to understanding the effects thereof. I pride myself in working from a holistic and integrative approach using trauma-informed, anti-oppressive, and intersectional lenses in rendering services.
I am grounded by embracing my full humanness-being imperfectly perfect. My faith, family and friendships carry me through life and its happenings. I find being in nature very healing and so is savouring moments. When not working, I love to engage in some fitness, going on walks, journaling, catching up on Korean series, city adventures and reading for pleasure. I also believe in allowing my inner child come out sometimes through art, dancing, building sand castles you name it.
You can book a free 20-minute call to get to know Chipo here:
In Conclusion
In summary, there are several factors to consider when looking at teen therapy as a resource for your stressed out teen. To gauge how important reaching out to a therapist is, look at these four areas:
Current supports

Concurrent stressors

How much the problem(s) is disrupting daily functioning

Current coping strategies
Remember, consultations with our team are complimentary. Our primary goal as a team is to be a resource for your teen to discover themselves, build their confidence, and develop strategies that will create independence in the future.
You can get started with your free consultation HERE. We also have a complimentary Anxiety Toolkit for Parents Raising Teen Girls, which is a PDF with 10 different tools you can immediately begin implementing to help with stress. You can download your copy here:
FREE Anxiety Toolkit