Earlier this month my colleague here at Pyramid Psychology, shared 3 ways to respond to teen behaviours. (If you missed out on her blog, you can read it here: 3 Ways to Respond to Teen Behaviours). One of the things she reminds us of, is that you can't read your teen's mind – no matter how much you wish to! In fact, the teenage years may feel reminiscent of the terrible two's when toddlers are pushing boundaries and "throwing tantrums."
Here are four ways to navigate teen communication when challenging behaviours arise:
   

Approach the conversation when both parties are calm

:

Take a deep breath and keep an open mind. Remember:

behaviour seeks to meet a need.

   

Listen

:

Be curious about what's going on for your teen. Allow them to speak without interruption. If they feel judged, criticized, or that something needs to be fixed, or corrected, defences go up and the conversation may shut down or explode.

   

Validate their feelings

: Although instinct is to solve their problem or minimise their concerns in hopes of helping them, use empathetic statements to show you understand, for example, "I'm sorry you're going through this, "That sounds really tough," "I can see you're going through a lot right now, "wow, that sounds difficult."

   

Communicate boundaries

: It's important that when discussing boundaries, they're clearly stated and an explanation is provided. The

DEARMAN

skill can be used to help communicate our needs and boundaries while maintaining a healthy relationship. Here is what the acronym stands for:
Describe the current situation using the facts. Tell your teen what you're responding to. 
Express your feelings about the situation. Don't assume your teen can mind read! 
Assert yourself by asking for what you want. 
Reinforce by explaining the positive effects. Avoid blaming or insulting. 
Mindful to keep the focus on your goals and the present rather than past experiences. 
Appear confident and avoid being confrontational. 
Negotiate. Offer and ask for other solutions to the problem. It's important to work together to have both individuals' needs met. 
Knowing how to best respond in these tricky situations is incredibly helpful, however, the interactions that take place outside of them are important as well. These interactions offer opportunities to both connect and develop important emotion regulation skills. The Gottman Method proposes the idea of an "emotional piggy bank," which every person has. When your teen is thanked, affirmed, or given time or affection, a "deposit" is made in their emotional piggy bank. However, a negative interaction like a demand, fight, or nagging, takes place, a "withdrawal is made from their emotional bank. The goal is to have more "deposits" or positive interactions than "withdrawals" or negative interactions/demands. You can learn more about this method on our blog: Emotional Bank Account: Your Relationship with Your Teen.
Regardless of which tools you choose to use, remember that communication is an ongoing process. You will have good days, and bad days. It is also important to provide your teen with outside resources to communicate with, particularly resources that are not emotionally attached to the outcome. Two of my colleagues are currently accepting new clients for 1:1 therapy. You can meet them here:
Jessa Tiemstra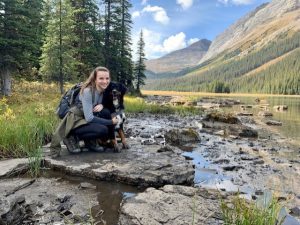 Hi there! My name is Jessa.
I am a provisional psychologist working with teens, parents, and young adults in Calgary, Alberta. I am passionate about helping people become the best version of themselves and am truly honoured to work in this field.
When I am not working, I have a range of interests that keep me busy. I love animals and have a dog and a cat that both like a lot of attention (both tri-coloured and fluffy!) I also enjoy plants, being outside, cooking, baking, crafty activities, going for walks, and video games.
I love spending time with family and friends but am an introvert at heart so quieter nights at home are good too.
I have called Calgary home for most of my life and love living here. Being a provisional psychologist lets me invest back into a place I am proud to call home.
You can book a free 20-minute call to get to know Jessa here:
Chipo Bvindi
Hello there!
I am a registered social worker with a Bachelor of Social Work with a major in psychology from the university of the Western Cape, and a Master's in Clinical Social Work specialization with individuals, families, and groups from the University of Calgary.
In my practice, I note the different intersectionalites that come into play, and I have adapted myself to understanding the effects thereof. I pride myself in working from a holistic and integrative approach using trauma-informed, anti-oppressive, and intersectional lenses in rendering services.
I am grounded by embracing my full humanness-being imperfectly perfect. My faith, family and friendships carry me through life and its happenings. I find being in nature very healing and so is savouring moments. When not working, I love to engage in some fitness, going on walks, journaling, catching up on Korean series, city adventures and reading for pleasure. I also believe in allowing my inner child come out sometimes through art, dancing, building sand castles you name it.
You can book a free 20-minute call to get to know Chipo here:
---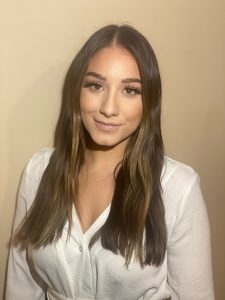 Hi there! My name is Ally and I am a MA student therapist working with teens, parents, and young adults in Calgary, Alberta. I am passionate about helping others and one of the greatest honours of my life is being able to listen and hold space for other people's stories. 
 When I am not working, I enjoy listening to music, spending time with family and friends, hiking, and indoor cycling. I love exploring new places with some of my favourites being Costa Rica, Nicaragua, Spain, Iceland, as well as Vancouver Island. 
 Calgary is home, but I will take any opportunity to travel!