10 Inner Power Affirmations for Teen Girls
With these 10 inner power affirmations for teen girls, you can empower yourself in all things friendship, community, and relationships.
10 tools you can immediately use to improve your female identifying teens' mental health & build resistance against depression & anxiety:
Anxiety & Depression Toolkit for Parents Raising Teen Girls
10 Inner Power Affirmations for Teen Girls
I am worthy of meaningful and healthy relationships.

I will do my best to cultivate healthy and meaningful relationships.

I deserve relationships where I can be my authentic self, without performance. Or pretence.

I am worthy as I am by just being me. My human worth is unmeasurable.

No one can be me and that is my superpower.


I will strive for consistency over perfection in my relationships with others.

I am deserving of the same level of compassion I give others.

I am my oldest friend and will do better in caring for myself.

I allowed being more than one thing. There are many parts to my existence—all matter.

I am abundance in human form. I have a ton of love that can go around.
Take the affirmations that resonate with you, and read/say them to yourself as often as you need!
Keep the list and review it regularly as well. The ones that resonate will likely change as your life does.
And, when you're ready, you can add a gratitude practice to your affirmations. Teen Happiness: The Science Behind Teen Gratitude is an article (written by my colleague here at Pyramid Psychology) to help you get started!
And if you'd like support creating your own affirmations or gratitude practice for your personal situation, book a free consultation with me. I am a Registered Social Worker supporting teen girls like YOU to love themselves from the inside out. Affirmations are a great first step!
Love,
Chipo
Register Social Worker offering counseling for teen girls (11-21 years old)
---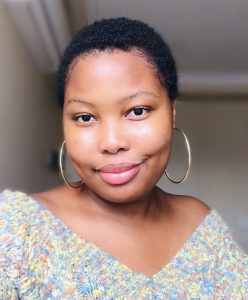 I am a registered social worker with a Bachelor of Social Work with a major in psychology from the university of the Western Cape, and a Master's in Clinical Social Work specialization with individuals, families, and groups from the University of Calgary.
In my practice, I note the different intersectionalites that come into play, and I have adapted myself to understanding the effects thereof. I pride myself in working from a holistic and integrative approach using trauma-informed, anti-oppressive, and intersectional lenses in rendering services.
I am grounded by embracing my full humanness-being imperfectly perfect. My faith, family and friendships carry me through life and its happenings. I find being in nature very healing and so is savouring moments. When not working, I love to engage in some fitness, going on walks, journaling, catching up on Korean series, city adventures and reading for pleasure. I also believe in allowing my inner child come out sometimes through art, dancing, building sand castles you name it.