Teen Happiness: The Science Behind Gratitude…. And Ways to Cultivate It! Gratitude is a term that has increased in popularity in recent years. Most of us have heard that gratitude is good, that we should practice it, and cultivate it … but what exactly is gratitude? How does teen gratitude relate to their happiness?
Gratitude is the quality of being thankful, or a frame of mind that encourages us to pause, acknowledge, and reflect on the good things in life. Many of these good things can easily be taken for granted, whether that be other people, the ability to move and breathe, experiencing the five senses, or even having new opportunities and challenges in the future. Teen gratitude puts the brakes on autopilot mode and invites us to be present and appreciative.
With the growing interest in gratitude, researchers have delved into what the actual benefits of gratitude are. The benefits can be broken down into three categories: psychological, physical health, and relational.
Teen Gratitude – Psychological Benefits
Research consistently shows that individuals with higher levels of gratitude are happier, have higher self-esteem and improved overall well-being. They tend to have greater optimism and hope for the future.
Gratitude also serves as a buffer for negative psychological experiences, as those high in gratitude are also less likely to struggle with depression, anxiety, and suicidal thoughts.
Teen Gratitude – Physical Health Benefits
In terms of physical health benefits, people who practise gratitude tend to have lower blood pressure and are at a lower risk for burn-out. Improved sleep is an additional benefit correlated with gratitude.
Gratitude also changes the brain itself, with new neural networks developing and strengthening the more that gratitude is practised. The neurotransmitters dopamine and serotonin, typically associated with "feeling good", are also released when gratitude is practised.

Teen Gratitude – Relational Benefits
The benefits of gratitude can extend beyond the grateful person and into their relationships. Expressing gratitude to others strengthens relationships and builds trust and connection. Even if gratitude is not verbally expressed, being grateful tends to increase social support and reduce feelings of loneliness.
The science is clear that there is a range of psychological, physical, and relational health benefits to gratitude, and the research is only growing. While there are numerous ways to cultivate gratitude, finding a way that works for you, your teen daughter, or your family is best.
Check out this PDF for ideas on how to boost your gratitude:
To begin creating gratitude in your teen daughter's life today, download this free PDF: 10 Ways to Boost Gratitude (for Teens)
✅ Download '10 Ways to Boost Gratitude for Teens' Here
I hope these ideas give you a place to start cultivating your own gratitude for you and your teen daughter! Don't forget to check out The Happiness Pill Program – it's designed to support you AND your teen daughter through the journey of happiness – giving you the tools to help your daughter find her joy, and your daughter the confidence to step out of anxiety and depression into happiness.
You can also download your FREE Anxiety & Depression Toolkit for Parents along with our mini webinars, all free and delivered straight to your inbox! Download your copy here: 
✅ Download Free Anxiety & Depression Toolkit Here
Email us with any questions, any time: info@pyramidpsychology.com
Love,
Jessa
---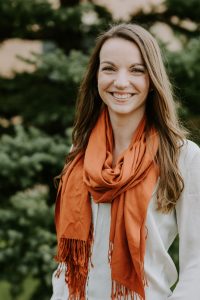 Jessa is a provisional psychologist living and servicing teens and young adults in Calgary, Alberta.
Jessa is passionate about helping people become the best version of themselves and is continually learning how to best support her clients. She has experience with acceptance and commitment therapy (ACT) and cognitive behavioural therapy (CBT), but most importantly she emphasizes the therapeutic relationship.
A safe, authentic relationship is key for therapy to work. Jessa prioritizes compassion and nonjudgmental curiosity. Together, she can find out what matters most to you and how to get there.
If you think Jessa may be a good match for you, please feel free to reach out and set up a free consult or book a session. She is looking forward to hearing from you!
Once a month, she writes a blog article in response to issues she hears from the parents, teens and young adults she connects with. If you have something you'd like to read more on – email ideas and questions to info@pyramidpsychology.com or DM us via Instagram or Facebook.