Being Popular At School: 3 Questions for Teen Girls
Being popular at school, having anxiety about friendships, and uncertainty about the school year are topics that keep coming up with the teen girls I work with. It brings to mind a quote that has been churning in my mind recently. A quote you have likely heard!
""Be who you are and say what you feel, because those who mind don't matter, and those who matter don't mind".
 Although some sources credit the saying to Dr. Seuss, there is a disagreement over whom the original author was, with some believing it was actually Bernard Baruch. Regardless of the original authorship, I find the quote to be insightful and relevant to the teen girls I have the honour of working with (and pretty relevant to anyone, really!).
I know friendships and popularity at school are on the minds of teen girls because questions such as  "will I be with my friends?", "what if no one likes me?", and "what if I am not popular at school, or what if I am never popular?" are common in the therapy room. These questions shine a light on the underlying human condition to socialise and feel accepted, which, while more acute in the teenage years, is not just a "teenage thing". I have yet to meet a person who did not long for at least some human connection, to be seen and heard, or to be liked, and similarly, who did not have a fear or at least dislike of rejection.
The relative strength of these factors vary, but in one form or another, are ubiquitous in us humans. Humans are social beings, so it makes a lot of sense why back-to-school fears about friendships and fitting in are so common.
But…just because it's common, doesn't mean it's easy.
Note: If anxiety around friendships is common for you, here is a free Anxiety Toolkit that includes 10 exercises and various free videos to help you master it:
Anxiety Toolkit
Being Popular At School: 3 Questions For Teen Girls
For teens that are worried about being popular at school, have anxiety about friendships, or a fear of not being liked, I often ask them a series of questions:
Being Popular At School Question #1: Let's imagine for a minute that everyone liked you, what kind of world would that be?
 Most teen girls that I talk to conclude that a world like that "would be terrible". In terms of reasons why, they say that in such a world, a person would always be changing to meet the interests of others and not be true to themselves, or they would have no boundaries or may not be standing up for what they know to be right.
Being Popular At School Question #2: Is there anything more important than being liked?
When given a chance to think about this question, many of the teen girls I work with have identified a number of things more important than being liked.
From the teen girls themselves, here are some of the reasons they commonly share are more important than being liked:
Being true to oneself

Standing up for what is right

Standing up for friends or family

Having healthy relationships

Being kind
Being Popular At School Question #3: Is it more important for other people to like us, or for us to like (or at least respect) ourselves?
This question is best asked last, because after exploring the previous questions, most teen girls tell me it is more important to be true to who they are and to like themselves rather than have the approval of others.
Usually, at this point in the conversation, the issue of being liked or not doesn't feel as huge or scary of a problem as at the start.
Are some of those feelings and questions still there? Of course! But the question of being liked or popular becomes less of an identity-defining, terrifying issue.
Our team has also developed 7 questions you can ask yourself to ensure the friendships you have are good ones. You can access them in our blog article here:
Teen Friendships: 7 Questions to Decide If They Are Good Ones
This brings us back to the quote: "Be who you are and say what you feel, because those who mind don't matter, and those who matter don't mind"… It's not that those people who mind "don't matter", but that they shouldn't have the power or influence to dictate who you are or change your sense of worth or morality.
Do you love learning and are super into school? Awesome!
Or do you find joy in video games, anime, or make-up? Amazing!
Or maybe your spark is in sports, music, art, or volunteering? Astounding!
You befriend the new kid at school even though they dress "uncool"? Awe-inspiring.
The reality is that everyone is different, and not everyone is going to click or jive together. And that's okay. Perhaps instead of trying to be liked, you can find the things that are more important to you and take steps towards those hopes. Hope for you may be respecting and appreciating diversity, both for others and for ourselves. Or, it could be growing in greater self-respect and self-love.
The key to ask yourself is this:
What is so important to you that it doesn't matter if others mind?
You can access support through our free Anxiety Toolkit (for anyone), or 1:1 sessions with me (Alberta residents only).
1:1 sessions with me include a complimentary 20-minute consultation to ensure we are a good fit. If you have benefits, they are also eligible for reimbursements.
You can book your free consultation here:
Book Your Free Consultation
Love,
Jessa Tiemstra
Provisional Psychologist servicing teen girls and young adults.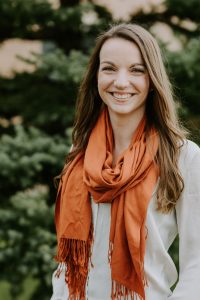 ---
Jessa is a provisional psychologist living and servicing teens and young adults in Calgary, Alberta.
Jessa is passionate about helping people become the best version of themselves and is continually learning how to best support her clients. She has experience with acceptance and commitment therapy (ACT) and cognitive behavioural therapy (CBT), but most importantly she emphasizes the therapeutic relationship.
A safe, authentic relationship is key for therapy to work. Jessa prioritizes compassion and nonjudgmental curiosity. Together, she can find out what matters most to you and how to get there.
If you think Jessa may be a good match for you, please feel free to reach out and set up a free consult or book a session. She is looking forward to hearing from you!
Once a month, she writes a blog article in response to issues she hears from the parents, teens and young adults she connects with. If you have something you'd like to read more on – email ideas and questions to info@pyramidpsychology.com or DM us via Instagram or Facebook.