I really enjoy reading. So much so that I have stacks piling up beside my bed of books I would love to read when I've got a minute. When I came across this title (still on my pile) Get Out of My Life, but First Could You Drive Me & Cheryl to the Mall? by Anthony E. Wolf – I laughed and thought "oooh that's a keeper".
Once I've read this one, I'll give more feedback on the content, but for now I have to say that I have heard a variance of this message from dozens of parents I work with: "my teen is distant", "my teen doesn't want to talk to me unless they need something", or "whenever I ask her (him) about something they just get upset". Sound familiar? You are not alone!
So if your teen is wanting to cut their hair a certain way, no longer liking the things you like, or is shutting you out of certain parts, you are in full swing individuation. Individuation leads to self-identity and independence and these are best nurtured by having warm, caring adults who are available to guide and let go. Parenting during individuation is like throwing a boomerang. Allowing them to get out there and make mistakes while learning who they are AND knowing they can and will come back for some of that love and safety.
So how do you throw the boomerang so that it will come back? I mean really how do you do that!? Because I had a boomerang as a child and I went to get it WAY more than it came back to me!!!
A better question is, how do you connect with your teen and give them space to grow their own self-identity?
Connecting On Their Terms
I'm not suggesting you stop everything at the drop of a hat and focus solely on your teenager when they request it. However, I am kind of suggesting you stop everything at the drop of a hat and focus solely on your teenager when they request it.
​It is important to take the time to really acknowledge and listen when your teen is engaging with you. If they have a friend problem they are struggling with or an issue at school that's bothering them and they want to talk about it, possibly at that most inconvenient time for you, other things can probably wait. And if the thing absolutely can't wait, bookmark the conversation with your teen and let them know how important it is for you by being really clear about when you will free up time just for them (as soon as possible).
Another way of connecting with teens on their terms is in taking a genuine interest in their stuff. What type of music are they listening to? Which streamers are they watching? Who are their friends? Which sports team are they rooting for? You don't have to love what they love. Taking a genuine interest is about understanding what they are into and why they connect to these things. It will give you some insight into their values, beliefs, and world.
Connecting Creatively
Finding creative ways to spend some time together is important. A parent shared with me that once a week their teen and them will each write down two things they enjoy doing and throw those options in a hat. They pull out one and that is the thing they do together that afternoon. Sometimes they are hiking and sometimes they are gaming together. Moments of connection can be specific times that are dedicated like this example and they can also be spontaneous in the moment interactions. Being genuinely interested and curious about their lives and asking questions that invite them to share snippets keep that connection going.
A mentor of mine once shared that asking a teen to complain about something is a great point of connection. I sometimes ask teens, "so who is the teacher that drives you the most crazy?" or "what is it that you are not liking at school right now?" I am certainly not an advocate of focusing solely on the struggle, but it is incredible how willing and open a person can be if given a chance to talk about things that are relevant to them.
Being creative about ways to create connection allows flexibility and more opportunities. If sitting down and having a heart to heart is out of the question, maybe a little teasing and laughter is the touchpoint or a car drive to get a treat.
Love On Them Always
At every opportunity, let your teen know they are loved. Individuation is about pulling away to form self-identity but it is not about shutting off the love valve. Even if your teen's backtalk and eye rolls are not what you would call languages of love, they are human and still need love, warmth, and connection in their lives. I'm a fan of using the words "I love you". I send my message of love to my kids with words, text messages, notes, etc.
You can also consider learning your teen's love language. The work on the 5 Love Languages developed by Dr. Gary Chapman, helps people understand how they give and receive love with others. Understanding your teen's love language and your own can help you foster a relationship with your teen that is connected.  You and your teen can do the quiz here.
Communication and Conversations
When the boomerang comes back, there will be many opportunities to support and teach. Keep the flow of communication open and create opportunities to plant seeds for the future. Keeping the flow of communication open requires that you:
​
Listen. My friend shared with me the other day, "you've got two 2 ears and one mouth so that you can listen twice as much"
Respect their individuality. Be ok with differences and disagreements on thoughts, opinions, and feelings.
Be clear about expectations. Have clarity and discussions around family rules, behaviours, and limit setting.
Allow your teen to make mistakes. These are often the most precious teachable moments.
Help them problem solve and take responsibility.
Give them space and some privacy.
In the push-pull of the teen boomerang years, remember that you are still very much needed.
Where did you rebel in the name of individuation in your teen years?
Love,
Chantal
---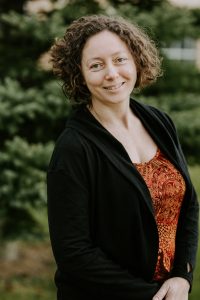 Chantal Côté (she/her) is a psychologist and teen life coach living in Calgary, Alberta. After over a decade in non-profit and community mental health, Chantal started Pyramid Psychology, a practice dedicated to supporting teens – a population she is constantly amazed by. Chantal is on a mission to help 100,000 teen girls (and their parents) build bulletproof mindsets so they can weather the ups and downs of life. As part of this goal, Chantal has had the privilege of speaking at various events – virtual and live – to support teens and parents.
Outside of this passion, Chantal is often in nature, writing poetry, playing ball hockey and hanging out with her loved ones.
Each week, Chantal writes a blog article in response to issues she hears from the parents and teens she connects with.
If you have something you'd like to read more on – email ideas and questions to info@pyramidpsychology.com or DM us via Instagram or Facebook.