Teen self-worth, self-esteem, self-what?
It is exam time for many of the teens that I have the privilege of working with, and many, like you, are feeling some level of stress or anxiety about studying and what final grade they will end up with. There is certainly a healthy level of stress that can motivate you to study, work hard, and perform better on tests (check out the Yerkes-Dodson Law!). For others, however, the stress and anxiety can be so high that it starts to feel debilitating.
If you are experiencing these high levels of stress yourself, it can be helpful to look at both practical strategies and explore deeper-level factors. As some of my lovely colleagues have already written blogs providing practical tips and tools, in this blog I'll focus on something else: self-worth.
An eBook with 10 mental health exercises every teen girl needs to know to:
Boost happy hormones naturally
When I say self-worth, I mean that deep sense of knowing you have inherent value and are worthy of respect no matter what. It is not influenced by the grade you got. It is not impacted by athletic ability or creativity. It does not depend on any personal beliefs you may hold.
And it's certainly not impacted by what others may be saying or not saying at school. Self-worth is a part of who you are. It is not dependent on what you do.  
For teens who are struggling during exam time, I am often curious to hear what they have to say about the idea of teen self-worth.
Do the grades of others define their worth? ("No!")

Do you treat classmates differently depending on what grades they are getting in school? ("No")

Do your grades define your worth as a human being? ("…no")
Hmmm… interesting!
Even when teens can answer these questions, they often say that it still feels like their worth is dependent on their grades. That feeling is a hard thing to shake, especially after so many years of positive reinforcement from that good feeling we get when we get a good grade in school. Just because we feel a certain way, however, it does not make it true. Untrue thoughts are known as thinking traps. My mentor and the Founder of Pyramid Psychology wrote a blog on thinking traps HERE.
I can sit here and type out what I think about self-worth, but in truth, this topic will be significantly more meaningful to you if you spend some time reflecting. Here are a few ideas to think about, journal on, or even explore with someone you know:
4 Journal Questions to Separate Your Teen Self-Worth from Exam Results
What is the difference between who I am and what I do? How do academics and grades fit into this?

What is self-worth, what is self-esteem, and what may be different between the two concepts?

What feedback am I using to inform how I see myself? Are these sources true, helpful, or accurate?

Am I letting feedback, such as grades or what other people think, impact my deeper sense of self-worth?
It can be disappointing when we get lower grades than we are hoping for. In taking time to think about some of these ideas, I hope that the disappointment is directed at the grade and does not turn inward to negatively affect your self-worth. Your self-worth does not depend on your grades.
If you find yourself struggling with teen self-worth, or connecting your worth to exam results, I want you to know you aren't alone.
I offer 1:1 support to work through these emotions and build strategies for the future. You can book a free consultation with me HERE (for teens in Alberta, Canada).
An eBook with 10 mental health exercises every teen girl needs to know to:
Boost happy hormones naturally
As a bonus question, you may find it helpful to know that in my sessions with teens, concerns about "trauma dumping", people pleasing, and avoiding (healthy) conflict often come up. How might these concerns fit into the concept of healthy boundaries?
If starting this conversation with your teen brings up more questions, we would love to hear from you!
You can email our team with next steps at info@pyramidpsychology.com
Love, Jessa
---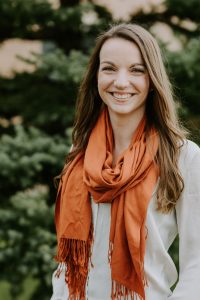 Jessa is a registered psychologist living and servicing teens and young adults in Calgary, Alberta.
Jessa is passionate about helping people become the best version of themselves and is continually learning how to best support her clients. She has experience with acceptance and commitment therapy (ACT) and cognitive behavioural therapy (CBT), but most importantly she emphasizes the therapeutic relationship.
A safe, authentic relationship is key for therapy to work. Jessa prioritizes compassion and nonjudgmental curiosity. Together, she can find out what matters most to you and how to get there.
If you think Jessa may be a good match for you, please feel free to reach out and set up a free consult or book a session. She is looking forward to hearing from you!
Once a month, she writes a blog article in response to issues she hears from the parents, teens and young adults she connects with. If you have something you'd like to read more on – email ideas and questions to info@pyramidpsychology.com or DM us via Instagram or Facebook.