"I could have done better." "I'll never be good enough."
 Many individuals experience these thoughts from time to time, however, when they become excessive, it can be incredibly overwhelming and take a toll on your functioning – especially for a teen whose brain is developing so many things at once.
My own journey with perfectionism started by gaining a deeper understanding of cognitive distortions or "thinking traps." Thinking traps are unhelpful patterns of thought that can prevent us from seeing things as they really are. There are several types of thinking traps. Here are some more common thinking traps with teen perfectionism:
Teen Perfectionism Thinking Trap #1: All-or-Nothing Thinking:
Viewing situations or events in absolute terms: good or bad, success or failure.
Example: You get a bad grade on a test and believe you will fail the subject.
Teen Perfectionism Thinking Trap #2: Personalization and Blame
Taking responsibility or placing blame on oneself when an event is completely or partially out of your control.
Example: Someone is talking about qualities of a bad friend and you believe they are calling you a bad friend.
Teen Perfectionism Thinking Trap #3: Labelling
Making an extreme judgement about yourself or someone else without considering other factors.
Example: You label yourself as stupid for getting a bad mark on a test.
Anxiety Canada shares some more examples of thinking traps HERE.
 While perfectionism can feel motivating and like it is helping you achieve your goals, being particularly self-critical can be harmful to your self-worth… Perfectionism itself is a trap because perfection doesn't exist!
 Understanding and recognizing these thinking traps is a great place to start! My top two tips for continuing to tackle teen perfectionism are: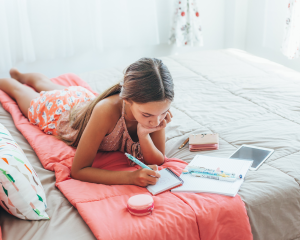 #1 Keeping a diary can help track thoughts and emotions that are connected to perfectionism thinking traps. It can increase awareness.
#2 Practising self-compassion is one of the most helpful ways to tackle your inner critic. Be kind to yourself! You can read more about how to develop self-compassion for yourself in another blog from our team: Self-Compassion: How Caring Can Stop Teen Depression In Its Tracks.
Working through the emotions around perfectionism, and helping you to decide whether it is really helpful or not to you, are some of the ways I can help you in one to one counselling. Sometimes, having an outside ear to listen can be so helpful with these thinking traps! I am currently offering 1:1 sessions for Alberta teens – online or in-person (Calgary) for the very affordable price of $40 per hour. You can book a free consultation to get to know me better HERE.
__________________________________________________________________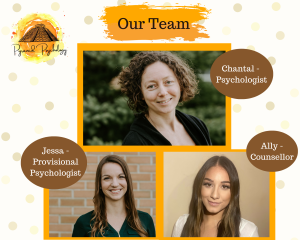 Counselling (or therapy) is a support that helps people who are facing difficult situations. It's not meant to "fix you" and it does not mean "something is wrong" with you. It's about offering a safe place to try new ideas, resolve problems, make changes, and move towards the life you want to live. Different therapists can help people work towards personal, relationship, athletic, educational, and career hopes and go​als.
Counselling is a combination of expressing yourself, being witnessed (listened to), discovering resources, and learning new things. There will be times when you will be sharing about your experiences and your counsellor will listen. There are other times when you will be discovering things that will support you to get through difficult situations. Sometimes your therapist will share information, ideas, and resources with you.
We help teen girls build bulletproof mindsets through:
You can learn more about each of our team members HERE or book a free consultation HERE.
If you have something you'd like to read more on – email questions to info@pyramidpsychology.com or DM us via Instagram or Facebook.