Teen motivation is something that comes up often in the work I do, because I am often supporting teen clients with goal planning.
While it's easy to chalk up lack of motivation to laziness, there's much more to it.
When you are feeling unmotivated, a good place to start is exploring why you are feeling that way.
For example, your attendance may have gone down because you're feeling unmotivated to attend school when there's other factors contributing to this. Once we have identified the root of "lack of motivation", it's time to work towards some solutions, which is more fun than it sounds!
After being in school myself for several years, I've had lots of opportunities to develop my own strategies. I have included some of these for you below!
Teen Motivation Goal Tip #1: Develop Small and Clearly Defined Goals
Accomplishing goals feels much more manageable when they are broken down into smaller ones. 
Personal Tip: Make note of the goals in a way that works best for you. As much as I love finding a new day planner or agenda, the convenience of creating a to do list on my phone works best for me. My phone is always close by if I need to add to or check something off my list. 
Teen Motivation Goal Tip #2: Get Organized
With a busy schedule, it can be easy to forget even the most important things. Add any important due dates to your paper or online calendar, so you do not forget.
Personal Tip: When I have an assignment due, I add "alerts" into my calendar app. To really be sure I don't forget, I'll add 2 alerts including a day before the assignment is due, so I can start if I have not already. The second alert to reminds me to submit the assignment, so it is not late.
Teen Motivation Goal Tip #3: Set The Environment
Create a space that encourages you to accomplish your goals. You can look around the house for things to add to or repurpose for your space. This is one of my favourite ways to get motivated because it allows me to get creative and personalize my environment!
Personal Tip: If I have a big assignment, I make sure my surroundings aren't cluttered before I start because it can be incredibly distracting for me. It also checks something else off my life – chores ☺
Teen Motivation Goal Tip #4: Lean on Others 
Keep others informed of any big goals you have or ones you find particularly challenging. Support systems are there for that reason!
Let the people in your support circle know what support looks like for you. This can ensure that support comes in the way that's most helpful for you. This could be asking a parent to provide gentle reminders or completing goals with friends who are working on similar things.
It is okay to need outside support as well – sometimes your immediate circle may not be quite the right people for the motivation you need. I am offering 1:1 support specifically for teens, at a lower rate. You can book an appointment with me HERE.
Teen Motivation Goal Tip #5: Reward and Recharge!
It feels good to check things off your list, but life is all about balance. Be kind to yourself and give yourself credit when you've accomplished your goals, no matter how small.
Remember that you need to consistently integrate activities into your life that recharge your internal batter. 
Personal Tip: What recharges your battery is personal to you, but a personal favorite of mine is listening to my favorite songs, especially 90s/2000s pop ☺ 
Teen Motivation Goal Tip #6: Revisit Your Goals
Life can get really busy and sometimes it can cause you to forget your goals or why they're important to you. Revisiting your WHY behind your goals can kickstart your motivation. It also serves as an opportunity to try out new strategies if you find that others aren't working anymore. 
Personal Tip: Ask a friend what works for them! 
You aren't alone in your struggles! One of the biggest sources of motivation buzzkill I've come across with teens I work with, especially when it comes to school, is falling behind. When homework and extracurricular activities pile up and get overwhelming to manage, your stress levels rise. This is when avoidance kicks in and it becomes easier to not do anything at all because it seems impossible to know where to start.
Following the tips above can help you not get to this point… If you do get there, though, these tips will allow you to let the people around you know how you feel! The weight of expectations can feel much lighter when there's others to help you carry it.
Getting an outside perspective can often be helpful when you feel like you're drowning in your struggles to keep motivated. Therapy is one source of support that can guide you to your own strategies, and provide some of that outside perspective. You can book me in here:
Before I let you go, I also encourage you to check out The Happiness Pill Program – this is a 4-month program designed to support you AND your parents to keep you moving towards the life you want for yourself, full of motivation and joy. Take a look here:
---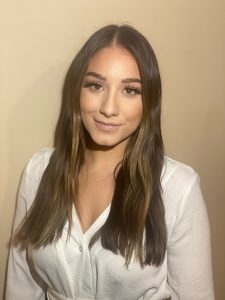 Hi there! My name is Ally and I am a MA student therapist working with teens, parents, and young adults in Calgary, Alberta. I am passionate about helping others and one of the greatest honours of my life is being able to listen and hold space for other people's stories. 
 When I am not working, I enjoy listening to music, spending time with family and friends, hiking, and indoor cycling. I love exploring new places with some of my favourites being Costa Rica, Nicaragua, Spain, Iceland, as well as Vancouver Island. 
 Calgary is home, but I will take any opportunity to travel!