Whether you are jumping up to junior high, have just moved to a new school, or are preparing to start the world of "adulting", school transitions are no joke. They are the epitome of change and stretching yourself into a world of unknown. 
When I was in grade 8, my dad got a job in a different city. Our family moved in the middle of the year. I still remember the feeling of walking into class on that first day at a new school, wearing my new floral bodysuit (yeah they were cool then) and feeling like I was going to throw up. My long time best friend says to me she remembers how pale I was that morning, "almost translucent". That's about how I felt. If I could have disappeared that day, I would have. The first few weeks were pretty rough and I spent a lot of time crying in the bathroom. But then things slowly got better. I started to make friends. I started to settle in. And those horrifying first few weeks didn't feel as big and terrible anymore. 
It wasn't all bad. I made some amazing friends, laughed a lot, and found some things I was good at. Best of all, I got through this thing that was really tough for me and I survived and that helped build my confidence in knowing I could handle some tough things. 
If you are in a transition year or you have just started at a new school, and your brain is freaking out, here are some strategies that will make things smoother. I've broken it down into 4 categories- Elementary to Junior High, Junior to Senior high (or High School), Grade 12 is almost over, and just moved to a new school.
Elementary To Junior High
This one can be a doozy. Not only are you typically going to a new school, but you also have to contend with class changes, combination locks, no more recess, and starting as the youngest in the pecking order of your new school.
On top of that, your body is rapidly hitting you with hormone and physical changes. So fun! … Not really.
First off, the bad news. Research tells us that many students transitioning from elementary to junior high experience a drop in their self-esteem and grades as well as an increase in anxiety and school absences. You may have fears around bullying or getting lost as you get used to the school and how everything works. Then there's how to make friends, fitting in, and how to get all your work done. It's a lot of change. A LOT.
The good news. You are not alone and these are really normal responses. The even better news: there are things you can do to help this change feel easier.
1. Make a friend (the good kind). Find someone who likes some of the things you do or who is part of a club or group that you are also in. Maybe it's someone who sits next to you in class and seems kind. Not sure how to make friends? Click here for some ideas! I like to start with asking questions about them and the things they like, smiling, or giving a sincere compliment to break the ice.
2. Join a group or club. At the time of writing this blog, this part may be tricky because a lot of programs are on hold. If your school has a club or a group that meets up at lunch and you are even remotely curious, join! What have you got to lose? You may learn that you really like something new and will probably make a friend or two. If there aren't any clubs, consider starting one (e.g. drama club, mindfulness, craft, social change, just to name a few).
3. Size up the teachers and find some you can trust. I know there are some teachers out there that seem like they are out to make you suffer, but there are others that really care and want to know about you and your life. Find those that you click with and make a point to talk to them on a regular basis.
4. Practice using a lock ahead of time. Believe it or not, figuring how to open a combination lock is one of students' top fears when transitioning to junior high. Ask your parents to buy you a lock and start practicing. It will be one less thing for you to worry about on your first day of grade 7.
5. Visit your junior high before you start. Ask your parent(s) to set up an opportunity for you to visit the school and meet with staff. Your school may already be offering something like this.
6. Pick your options as soon as possible. You will likely have some option classes that will give you a chance to learn some new skills. As soon as you can, pick your favourite options to make it more likely that you will get those. Then you will have something to look forward to in those moments where everything is feeling a bit scary and awkward.
7. Watch some junior high movies (Warning, movies are not always an accurate picture of the junior high experience, so take everything with a grain of salt and maybe a couple laughs or tears). Here are a few examples:
a) Max Keeble's Big Move
b) Akeelah and the Bee
c) Middle School: The Worst Years of My Life
d) Diary of a Wimpy Kid
e) 8th grade
8. Talk to your parents about school. Let them know what you like and don't like. They were grade 7 students once upon a time (Parents, if you're reading this, give your teen some time to complain about the things they aren't loving and share about the things they are).
9. Have a hobby or after school thing. Again at the time of writing this, it may be a bit tricky to have these things going. Be a part of something you enjoy and have connections to others (e.g. sports, art, girl guides, etc.)
10. Get to know your school counsellor. Most junior highs have a school counsellor. They can be a great resource to check in with and help you solve problems. Think of them as a bit of a coach or a guide that is there for you when you need.
Here is an extra read if being forgetful of new things is something you're worried about.
Junior High to High School
Things can get dicey here and in a way feel familiar (oh good ole grade 7 transition all over again, but not really!) High school brings new stressors and pressures to achieve school success, more academic demands trying to balance responsibilities like work and school, a lot more exposure to drugs, alcohol, sex, and dating, and starting to think about your future.
That's a mouthful and it's a complex web of social, psychological, and emotional experiences to navigate. 
Parents, there are a couple articles you can read on this here and here. 
​
Teens, pull out your road map because this journey requires a little bit of guidance along the way:
​
 1. Brush up on your social skills. You will have tons of new experiences in high school and some repeat experiences. It is good to know how to say 'No', how to start a conversation, how to act at a party, and how to navigate relationships and sex issues. Check out this checklist (thank you www.learningforapurpose.com!) and see how comfortable you are in these 50 different social skills for teens.
2. Know your supports. Who are the adults in your life that you can talk to? Who are the people your age you can talk to? Where can you look for the answers to some of your questions? Having an idea of where to go for support can be super helpful.
3. Make a friend. Find someone who likes some of the things you do or who is part of a club, sports team or group that you are also in, or maybe someone who sits next to you in your biology class and seems kind. Not sure how to make friends? Check this out.
4. Class choices. Plan ahead, talk to your parent(s), teachers, and school counsellor before starting high school and map out your class choices. You may have a plan of what you want to do later on or have no clue. Plan to leave as many doors open as you can without causing unsurmountable stress.
5. Go to the high school beforehand. Oftentimes there will be tours or open house events at various high schools. Go to a few and compare your options. Get a feel for the school, the staff, and the programs they offer.
6. Get involved. Try out for the school sports team or join a club at school. This can help you connect with like-minded people and build your confidence.
7. Give yourself a pep talk yourself. It can be easy to get caught up in the "high school is hard" nightmare. Adults in your life may commiserate with you in "high school being the worst years of my life". That isn't always the case and it doesn't need to be the case. You get to decide what to make of these years. Give yourself a pep talk and encourage yourself to make the most of this time and know that you've got this… One day at a time.
8. Connect with the school counsellor. The school counsellor can be a really helpful resource to talk about now problems, future problems, or just to check-in. They can be a wealth of knowledge so take advantage of their availability.
9. Master your study skills. Get really good at figuring out what works for you. Block specific times for studying. Have a usual space to do work. Find accountability and study buddies. There are many strategies, so start honing in on the ones that work best for you​!
10. Get to know You. This time in your life is all about gaining independence from the nest (your family) and a process called individuation (who am I?) Take time to learn about yourself, what you like, don't like, what kind of people you want to surround yourself with, your dreams and hopes, talents and skills, etc. Give yourself opportunities to try new things and take some risks (maybe not the dangerous might kill you kind) to help you better get to know yourself. Check out this article I wrote on all the reasons why being You, is the best thing to be!
High School is Almost Over
When high school is coming to a close it can mark a really significant period in a teen's life. This is where adulting comes into play and some people say it is like stepping into the real world. Students nowadays have options like taking a gap year, going to post-secondary (college, university, trade school), or entering the workforce. There are a lot of options and it can sometimes feel overwhelming. The next 10 ideas are going to help you know what steps to take.
You may also want to check out "Race to Nowhere", a documentary (2010) that was created to get our society to start critically thinking and challenging our current thoughts around how we teach our young generations to prepare for success.
1. Self-care. There are more responsibilities, loads of new experiences and more big decisions to make, so "filling your bucket" is important. Take social media breaks, get outdoors, spend time with the important people in your life, practice gratitude, and take regular breaks.
2. Advocacy. Be aware of your learning style, your strengths and needs when it comes to learning. Being able to advocate for yourself becomes more important as you increase your independence. As you prepare to advocate for yourself, run your script past a trusted adult or a friend first to help with the process.
3. Get all the freebies. Attend orientations and seminars whenever you can. It will give you an opportunity to see what it is like on various campuses you are considering. Scope out campus websites and maybe attend some free events on campus before you select your post-secondary institution to really get a feel for things.
4. Talk to adults about adulting. It can be helpful to ask questions and learn about what it's like after high school from those that are living it. Caution – don't let that hold you back from your own dreams and ideas about life after high school. Some ways of doing this are through job shadowing opportunities, volunteering, talking to the adults in your life, talking to a career counsellor, etc.
5. Have fun. This is a special time in life where there are so many opportunities. Embrace the independence and the experiences that can be fun and adventurous.
6. Grow. As you complete high and move towards the next step in your journey, there will be moments when you will find yourself thinking- "Oh I don't know how to do that" or "I don't know how to manage this." One thing Luki Danukarjanto writes in their blog to try is adding the word YET to some of these thoughts as a way of adding possibility and compassion to your mind as you grow into new experiences. E.g. Oh I don't know how to do that yet. I'm not sure how to manage this yet. Sounds different right?!
7. Time audit. This can be a great exercise to do as you go into any transition. Try grabbing some markers. Imagine that each represents 1 hour of your day. Give yourself 24 markers and break it down into the different things that you do. Having a visual and seeing how many hours you spend at school, with friends, doing your hobby, sleeping, etc. can be a real eye opener and guide to where you might want to make some changes.
 8. Friend audit. The transition between high school and the next chapter can be a great opportunity to appreciate and deepen the important friendships in your life, to let go of some friendships that are not really supporting you, and to develop some new ones.
9. Contribute. Spend some time volunteering or helping out in some way in your community or at your post-secondary school. It feels good to contribute to a cause you care about it and feel like you're a part of something bigger. It can also be a great place to meet new people and may open some doors for your future.
10. Gather your team. Figure out who is going to be a part of your support team- parents, counsellors, coaches, mentors, friends, etc.
Just Moved To A New School
When it comes to moving to a new school midyear, most of the strategies above can apply to help you. Take it one day at a time. Give yourself some encouragement, some yet statements (I haven't made any friends yet), and some time to get settled. It will get better. And if it doesn't, there are always choices and options.
Share this with someone you know who is about to make a school transition.
Love,
Chantal
---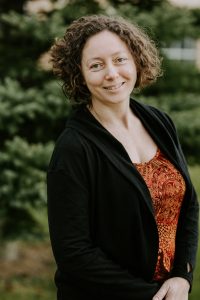 Chantal Côté (she/her) is a psychologist and teen life coach living in Calgary, Alberta. After over a decade in non-profit and community mental health, Chantal started Pyramid Psychology, a practice dedicated to supporting teens – a population she is constantly amazed by. Chantal is on a mission to help 100,000 teen girls (and their parents) build bulletproof mindsets so they can weather the ups and downs of life. As part of this goal, Chantal has had the privilege of speaking at various events – virtual and live – to support teens and parents.
Outside of this passion, Chantal is often in nature, writing poetry, playing ball hockey and hanging out with her loved ones.
Each week, Chantal writes a blog article in response to issues she hears from the parents and teens she connects with.
If you have something you'd like to read more on – email ideas and questions to info@pyramidpsychology.com or DM us via Instagram or Facebook.