Gone are the days of 6am wake ups because they want to play with you and here are the mornings of whines and moans to get them out of bed and ready for school. A dad was sharing how every school morning is a 45-minute battle, ending with a stressed out dad and teen.
If you would rather be making your smoothie in the morning, here are 10 ideas that you can try:
1. Lights, Camera, Action – This one works well in our house (most of the time!). About 10 minutes before my kids need to get ready, I turn the lights on and I am talking to them about their day and about getting up. It's kind of like a monologue because no one replies but the stimulus gets them to start that process of waking.
2. Prepare Ahead of Time – Anything that can be the night before is worth doing. Have your teen make their lunch, pick their clothes out for the next day, charge electronics, and pack their bag. The less there is to do in the morning, the less stress on both you and them.
3. Think about Sleep First Thing in the Morning – Your quality of sleep is impacted by all the choices you make throughout your day (thanks Brittany for sharing this information with me!) Have your teen consider things like how much caffeine they are having throughout the day and when, what kind of food they are consuming, other substances that might affect sleep, how much stress they are exposed to, if they have a consistent bedtime, etc. See where they can clean it up a bit.
4. Turn Down the Blue Light – Screens emit blue light which suppresses the body's natural melatonin production (gets us ready for sleep). Ideally, screens should be turned off an hour before sleep. Realistically, this can be a challenge to put into practice. Consider reducing exposure to blue light before bed, whether it's turning off screens or using something (like blue light blocking glasses) that helps filter out the blue light.
5. Sleeping in your Tomorrow Wear – This is not one I have personally tried, but some teens swear by sleeping in the clothes they will wear the next day and this avoids a ton of morning stress.
6. Nightmares of Being at School in your Underwear – Natural consequences may be the way to go if you're not getting any traction. The thought of arriving at school in pajamas (or underwear) may be enough to motivate a morning routine that works. 
7. Throw the Alarm Clock Across the Room – Get an alarm clock (definitely wouldn't recommend using a phone – way too tempting) and place it just far enough so they have to get up to turn it off. The biggest downside to this is that it might drive you crazy before it actually wakes your teen up lol. ​
8. Negotiations at the Table – Is your teen looking for an extra 30 mins to hang out with their friends in the evening? Some extra screen time? Have a discussion with them. Be clear on what expectations you have for them in the morning to reduce stress for everyone. Negotiate around incentives that might motivate a cheerful (ok perhaps not quite cheerful) morning disposition.
9. I like to Move it Move it! – Bodies need to be in motion every day. It helps relieve stress, improve mood, and establish healthy sleep patterns. Have your teen aim for 30 minutes a day of movement and exercise and see if they can get that to an hour. (Strong Girls Fitness Society is a good resource.)
10. Consult a Sleep Expert – Folks like Brittany Andrejcin are experts in teaching people how to optimize sleep. Check out online resources or consider working with someone to help improve the quality of your teen's sleep, which ultimately will lead to stress-less mornings.
​What is one thing that works well in your family to reduce the stress of school mornings?
---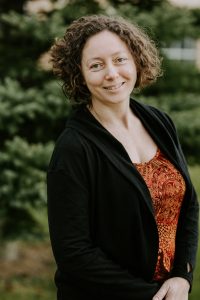 Chantal Côté (she/her) is a psychologist and teen life coach living in Calgary, Alberta. After over a decade in non-profit and community mental health, Chantal started Pyramid Psychology, a practice dedicated to supporting teens – a population she is constantly amazed by. Chantal is on a mission to help 100,000 teen girls (and their parents) build bulletproof mindsets so they can weather the ups and downs of life. As part of this goal, Chantal has had the privilege of speaking at various events – virtual and live – to support teens and parents.
Outside of this passion, Chantal is often in nature, writing poetry, playing ball hockey and hanging out with her loved ones.
Each week, Chantal writes a blog article in response to issues she hears from the parents and teens she connects with.
If you have something you'd like to read more on – email ideas and questions to info@pyramidpsychology.com or DM us via Instagram or Facebook.