I've been meeting the most amazing youth in my therapy practice. One of the things that really strikes me is the caring and passion they have for things they believe in.
What does your teen care about? What lights them up, sparks their fire, gets under their skin – you know – the thing they just can't help saying something about? You might find it challenging if it differs from your own views and beliefs. This may lead to you to feel frustrated at why they can't see your point of view or a series of pointed heated debates.
When I was younger, I became really interested in learning about cultures. I eventually started volunteering with an organization that supported refugees who had recently arrived in Canada. It started from a place of curiosity and I ended up learning so much about myself, others, and the world. Even though my views were not necessarily the same as some of the people in my world, I continued to stay connected to this program and even worked there for a while. Following my passion and what I believe in has made for some incredible connections, learning, and experiences.
Here's the thing: If your teen is passionate about a cause, they are hitting an important developmental milestone. If your teen's views or passion are not harming them or others, it's worth elevating their voice. Even though you may not share the same opinion as them, here are 5 reasons why encouraging your teen's passion is important:
Fostering Your Relationship With Your Teen
When you take the time to hear about your teen's views, whether it's political, social, or other, it fosters connection with your teen. Being curious about things they care about is like getting the inside scoop on your teen. It can open your eyes to their likes, dislikes, values, and worldviews. At a time in their development where they are often pushing parents away, these can be invaluable moments of connection and insight for us as parents.
Foster Empathy
Empathy is the ability to connect with others, the emotions they are experiencing, and a way of communicating to others they are not alone, even if you have not experienced the same situation. When your teen is speaking up for others, learning about a specific cause or thing that matters to them, they are nurturing their ability to be empathetic. This builds their emotional and social intelligence which will serve them in all human interactions. Even if this cause is not people-oriented like being passionate about rescuing animals, there is empathy in the connection to a living creature as well as to the people they meet along the way that share and don't share these views.
Foster Identity and Confidence
Your teen is constantly in the process of getting to know who they are, how they want to show up, and who their people are. By engaging in something larger than themselves and finding things that matter to them, they can build pieces of their identity. They may go through periods where something is important and then shed that part of their identity and that is ok. They are trying things on for size and this is an important part of developing identity. By speaking out and speaking up your teen is developing their confidence – their ability to take action even if they are unsure, nervous, or doubting.
Foster Connection
Feeling connected is core to the human being. We need connection in order to thrive. This connection can come from meaningful relationships with others, spending time with people who have similarities to us, and in being witnessed and understood. When your teen is passionate about a cause or issue, they will likely find others who have similar views. They may connect to peers, mentors, and other influencers along the way. This is also an opportunity for you as a parent to connect with your teen around what matters to them.
Foster Critical Thinking
Giving your teen a voice around their views and beliefs can help build important brain skills. Be open to conversations around the issues they find important. Ask them about their interest and what makes it important to them. When there are opportunities, engage in healthy debates and critical questions around these issues. You are ultimately helping them develop their ability to have perspective and to critically think about things.
What are some causes you felt passionate about as a youth? Are you still connected to these views and beliefs today? I invite you to share one thing that your teen self felt passionate about with your teen and find out what it is that lights their fire.
Love,
Chantal
​​If you found this post helpful, pass it on by emailing a friend or sharing it on Twitter or Facebook – thanks!
---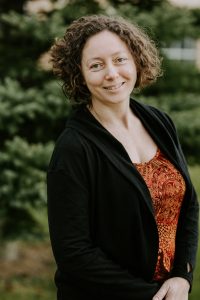 Chantal Côté (she/her) is a psychologist and teen life coach living in Calgary, Alberta. After over a decade in non-profit and community mental health, Chantal started Pyramid Psychology, a practice dedicated to supporting teens – a population she is constantly amazed by. Chantal is on a mission to help 100,000 teen girls (and their parents) build bulletproof mindsets so they can weather the ups and downs of life. As part of this goal, Chantal has had the privilege of speaking at various events – virtual and live – to support teens and parents.
Outside of this passion, Chantal is often in nature, writing poetry, playing ball hockey and hanging out with her loved ones.
Each week, Chantal writes a blog article in response to issues she hears from the parents and teens she connects with.
If you have something you'd like to read more on – email ideas and questions to info@pyramidpsychology.com or DM us via Instagram or Facebook.