You don't have to feel helpless watching your daughter struggle with teen confidence. I am going to share 5 ways you can help her develop confidence.
We are launching an online community for teen girls, with a separate forum for parents.
This is a safe space to grow as a family to support your teen daughter's unbreakable mindset.
Join Our Community for Teens & Parents
Adolescence is often a stage in life that is demanding in itself as teens go through transitions, developments, and relational and behavioural alterations. This period
of tremendous change could also be filled with moments or periods of low self-esteem. Self-esteem, self-worth, and self-confidence have one thing in common… the Self in these words and a reference to the relationship we have with ourselves, i.e how one views or feels about themselves….
Parents can help their daughters with teen confidence by building their self-esteem, self-worth and self-confidence through some of the following suggestions, tools, and techniques.
We are launching an online community for teen girls, with a separate forum for parents.
This is a safe space to grow as a family to support your teen daughter's unbreakable mindset.
Join Our Community for Teens & Parents
5 Ways You Can Help Your Daughter Build Teen Confidence:
#1 – Praise the process and not the outcomes… Praising the outcome often comes naturally – you are proud of what your daughter accomplishes! However, I encourage you to also praise  the things your daughter has learned, or skills she developed, when working towards a goal or arriving at the outcome (be it good or bad). This allows her to develop a growth mindset as well as promotes teens to be resilient.
#2 Have realistic expectations for your daughter. Sometimes you may be trying to live life through your children. (Your own self-worth often plays a part here). As a result you can end up setting unrealistic standards that result in a lot of pressure and performance to appease parents, rather than being authentic and truly embracing progress over perfection. 
#3 Encourage your daughter to engage in positive self-talk and model positive self-talk yourself. Prompt your daughter to note when she is being judgemental, harsh or cruel towards themselves. Reflect on this and also for them to stop… by embracing being human and exercising some self-compassion. My colleague, Jessa Tiemstra, Provisional Psychologist wrote a blog article to help you model confidence for your daughter. Take a read HERE.
#4 Create a gratitude or success trail of paper… As a habit teen girls can engage in by documenting successes, and accomplishments, that they can read to themselves or can serve as reminders of what they have managed to overcome or achieve. Even some of the strengths and skills they developed along the way…. This can be something that can be reviewed in times of distress
or when their self-esteem is down. 
#5 Help your daughter notice and be aware of dynamics that might trigger not-so-good feelings…. Is it a place, people, relationships, or friendships,
that activate low self-esteem or low self-worth…encourage them to develop healthy boundaries in letting the aforementioned (people/ friendships)  know they will not tolerate such behaviours or can simply look at stepping away? Help your daughter understand that boundaries are there to take care of them and also are necessary for healthy relationships. Having boundaries in areas where people act in less than respectful ways is okay! 
Teen confidence is one of three pillars your daughter needs to be okay now and in the future. The other two are: developing healthy relationships, and learning how to step into their spotlight.
Our online community (launching early 2023) will have a forum specifically for teen girls with resources for them on all three pillars. It will also have a parent forum for you. Join the waiting list here.
Love,
Chipo
Register Social Worker offering counseling for female identifying teens (11-21 years old)
---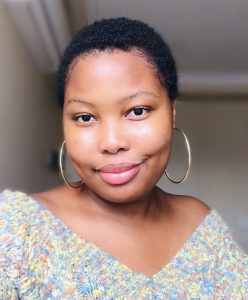 I am a registered social worker with a Bachelor of Social Work with a major in psychology from the university of the Western Cape, and a Master's in Clinical Social Work specialization with individuals, families, and groups from the University of Calgary.
In my practice, I note the different intersectionalites that come into play, and I have adapted myself to understanding the effects thereof. I pride myself in working from a holistic and integrative approach using trauma-informed, anti-oppressive, and intersectional lenses in rendering services.
I am grounded by embracing my full humanness-being imperfectly perfect. My faith, family and friendships carry me through life and its happenings. I find being in nature very healing and so is savouring moments. When not working, I love to engage in some fitness, going on walks, journaling, catching up on Korean series, city adventures and reading for pleasure. I also believe in allowing my inner child come out sometimes through art, dancing, building sand castles you name it.