8 Reasons Your Teen Daughter Needs A Mentor
Having a teen mentor is crucial for teen girls. I will share 8 reasons why shortly.
But first, dear most amazing parents of teen girls, I am going to ask you a really important question: 
When you think back to your teen years, who are the people that had the strongest positive impact on your life? 
You might be thinking about that teacher who wouldn't give up on you, your older cousin who understood everything you were going through, the no-nonsense coach who pushed you to do better, or your best friend's mom who always showed you the utmost kindness. 
Maybe you didn't have a person directly in your life, so you looked to those you didn't know personally; an author, actor, philosopher, artist, musician, athlete…..
One of those people for me was my Uncle. There was nothing particularly exceptional about what he did, it was more of a feeling. When I was around him, I felt seen. I felt important. I felt loved. Thinking of him now puts a massive smile on my face. I remember his qualities of kindness, warmth, and adventure. And, what a sense of humour! His wit was worth admiring in my books. 
Even though he died when I was in my teens, I still see him as one of my best mentors. 
How did the person you thought of make a positive difference in your life? Do you remember what they said or did for you that made an impact? Is it more of a memory on how their being in your life made you feel?
When I look back at the impact my Uncle had and still has on my life, I realize just how exceptional it was. I strive to live out the qualities he modeled. The relationships we have in our teenage years have the potential to change the course of our lives. 
Reggie Nelson and Jessica Hurley are two wonderful anecdotes of how powerful mentors can be for teens. 
So one more question for you….. Who is your daughter's teen mentor? 
8 Reasons Your Teen Daughter Needs A Mentor:
Helps your teen daughter believe in herself and the possibilities for her life

Gives your daughter a person to go to for advice and guidance

Creates hope (when your daughter doesn't feel alone)

Builds long term trusted friendships to help your teen daughter through the ups and downs 

Supports your daughter to develop her identity

Opens doors to new ways of thinking (and new opportunities) for your daughter

Provides a way for your teen daughter to practice social + conversational skills, and build conflict resolution skills

Provides your teen daughter with a model for qualities and characteristics 
So, I ask again. Who is your daughter's mentor? Someone who is a champion of her life – cheerleading and rooting for her no matter what. Somebody she sees as a trusted guide, who is consistent. Someone who sees her.
If you didn't immediately know the answer, I encourage you to talk to your daughter. Ask her who she looks up to, admires, or reaches out to for help. Ask her if she needs more support; someone in her corner.
It's really important to take ego out of the equation, and recognize that teen girls often need support outside of their immediate family (goodness knows I wanted someone other than my parents as a teen, haha)!
At Unbreakable Teen Me, we offer a safe space for your daughter to have a teen mentor. A woman she can look up to, go to for advice, and build her skills with. You can get to know any of our team members HERE (simply scroll to the bottom of the page).
When your daughter has chosen a potential teen mentor (therapist) she resonates with most, you can book a completely free consultation (Alberta, Canada residents) to ensure it's a good fit. You can book your consultation with any of our team members here:
Find Your Daughter's Mentor Today
Love,
Chantal
---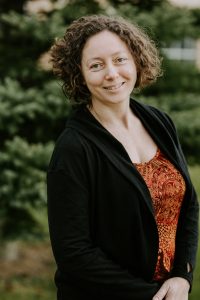 Chantal Côté (she/her) is a psychologist and teen life coach living in Calgary, Alberta. After over a decade in non-profit and community mental health, Chantal started Pyramid Psychology, a practice dedicated to supporting teens – a population she is constantly amazed by. Chantal is on a mission to help 100,000 teen girls (and their parents) build bulletproof mindsets so they can weather the ups and downs of life. As part of this goal, Chantal has had the privilege of speaking at various events – virtual and live – to support teens and parents.
Outside of this passion, Chantal is often in nature, writing poetry, playing ball hockey and hanging out with her loved ones.
Each week, Chantal writes a blog article in response to issues she hears from the parents and teens she connects with.
If you have something you'd like to read more on – email ideas and questions to info@pyramidpsychology.com or DM us via Instagram or Facebook.