As a parent, it can be easy to question the amount of time your teen is spending on their phone and be curious about the impact on mental health. Research indicates a correlation between increased screen time and teen depression (Association of Screen Time and Depression in Adolescence), but the situation is not completely black and white. Understanding the role that technology plays in teens' lives and the pros and cons can help inform family decisions around screen time.
Screen Time & Teen Depression: Factors to Consider
–          There is a correlation between depression and screen time. It is true that excessive amounts of screen time can be a factor leading to depression, but teens who are struggling with depression are also likely to spend more time using technology as well (Association of Screen Time and Depression in Adolescence).
–          The amount of time looking at screens is important to consider. Research indicates that both no screen time and too much screen time (usually defined as being over 6 hours per day) can have negative effects on a teen's mental health and development. In contrast, screen time of around 2-4 hours a day is associated with cognitive and psychosocial benefits in the teenage years (Digital media: Promoting healthy screen use in school-aged children and adolescents)
–          The content being viewed matters:
*    If your teenager is frequently looking at photoshopped images of Instagram influencers or celebrities, they often start to compare themselves to these perfect images and lifestyles. In comparing themself to these unattainable standards, your teen's self-esteem may start to suffer, and they are more likely to experience symptoms of depression.
*   Technology can also be used for learning and exposure to new ideas and perspectives. School and homework are also increasingly online or require varying amounts of screen time. 
–        Technology and screen time provides teenagers with a way to connect, which is especially important during the socially isolating times of Covid-19 restrictions. Social connection, whether in-person or online, is vital in the teenage years and significantly decreases the likelihood of depression (Strong friendships in adolescence may benefit mental health in the long run).
–          Excessive time spent on screens means that your teen is being less physically active and may be missing out on other meaningful activities. Exercise is a significant protective factor against depression at any age (Keep your teen moving to reduce risk of depression).
–          Using screens right before bedtime can also delay sleep and reduce total sleep time (Youth screen media habits and sleep: sleep-friendly screen-behavior recommendations for clinicians, educators, and parents). Sleep is especially important during the teenage years, and most teenagers are not getting enough sleep. Teens who do not get enough sleep are more likely to feel depressed (Teens and sleep: Why you need it and how to get enough).
Teen Depression: Making a Plan for Screen Time
In collaborating on a screen time plan, think about having screen-free times or zones and what that may look like. For example, maybe there is a family agreement that cellphones will be put away during dinner, or that cellphones will be turned off an hour before bedtime.
Educate your teen on the pros and cons of technology use. Help them develop a critical eye that questions the information they are reading and the images they are seeing. Online safety is another very important conversation to have.
Role model what healthy technology use can look like, and encourage open and honest conversations with your teen. 
Consider incorporating more variety into the day or week, whether that be sports, a family walk, volunteering, or some other activity that encourages your teen to be present and engaged in the moment.
Use technology and screen time as a way to connect with your teen. Be curious about what they like about it and what they find meaningful or funny. If appropriate, maybe there is even a game to participate in together!
At the end of the day, each family needs to make their own decisions about screen time, knowing it will evolve as time goes,and find a way that best fits them. The key is to find a balance and to remember that screen time is neither all-good nor all-bad.
If you're seeing your teen go through depression and are needing some support, my name is Jessa Tiemstra and I specialize in counselling for teen girls in Alberta, Canada. You can book a free consultation with me HERE.
---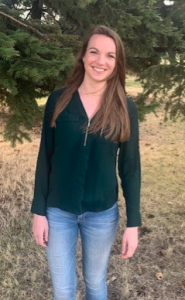 Jessa is a counsellor that has recently completed her master of counselling degree through Athabasca University.
She is highly passionate about helping people become the best version of themselves and it is an honour for her to work alongside teens and their parents.
A few of her favourite things are spending time with her family, friends and pets, being in nature, cooking and eating delicious food. And also, she loves plants!
Once a month, she writes a blog article in response to issues she hears from the parents and teens she connects with. If you have something you'd like to read more on – email ideas and questions to info@pyramidpsychology.com or DM us via Instagram or Facebook.