As I navigate parenting teens, I am always reading to learn more. As I was reading the latest book by Michelle Borba, Thrivers, I was feeling full of hope by her message – 'By nurturing 7 specific character strengths in our teens, we are practically guaranteed to get them from stressing to thriving', I couldn't wait to share this message with the parents of the amazing teen girls I support every day. Something happened as I kept reading. Those feelings of hope and excitement faded beneath a shadow of something else – Self-doubt? Overwhelm? Definitely annoyance. Shame… What was happening?
Well, there is so much information out there, really great stuff, ready and available at our fingertips to equip us to be the best possible parents. So much in fact, that it can quickly feel like too much, that we are constantly failing to keep up on the newest parenting standards. As I read the book, I was getting caught up in the parenting rat race thoughts of "I'm not doing enough", "not good enough", "there isn't enough time, resources, knowledge to parent like this' ', etc.
The role of parenting can be one of the most rewarding experiences. It can also be one that feels isolating; Am I the only whose teen…..?- Are others unsure about how to handle….? – and many parts of parenting seem to operate under a covert set of rules. It's not an easy undertaking.
There was this meme going around at the height of the pandemic when most parents were at home and kids were attending classes online: It went something like – "My co-workers are the worst. They walk around half-naked, blast their music, and demand food from me". I definitely cracked a smile and gave a good head nod in recognition of this common at home scenario. The thing is parenting is a non-stop role that keeps us onboard… Well, forever. So it's a wonder to me how parenting, especially the behind the scenes of it, is not talked about with more acceptance, awareness, and love.
As you step into the new year – which really is an arbitrary time to select, but seems to be a socially accepted time to reset or start anew, why not highlight your intentions as a parent and to do so lovingly with awareness and acceptance.
Here are a few things to keep in mind:
Parenting Teens: Letting Go of Perfection
There is just no such thing as perfection. When raising teens, it is more of an art than a science. There is definitely science behind a lot of what is happening in your teen's brain and body that helps explain the behaviors you see – but when it comes to the manual on parenting – it doesn't exist. You can watch this link for a short Netflix clip on the topic. The quicker you can let go of getting right all the time and company ring to other parents (guaranteed to bring about bad feelings!), the quicker you can step into being a more present parent. Challenge yourself to drop the struggle with perfection. It will create more empathy in your parent-teen relationship (the 'me' to 'we' concept). It also releases the pressure valve on stress for both you and your teen.
Parenting Teens: Intention
Intentional, thoughtful parenting is more aware. You question why you do what you do. You stop and think before jumping on the bandwagon of the latest parenting trend or keep doing what you're doing just because that's the way it's always been done. Yes, it requires a little more effort to show up in this way. Yes, it can be so tempting to just hang out at
cruising altitude. Everyone wins when we parent with intention. Values guide parenting with intention. What matters most to you, becomes your North star. You'll know when you're aligned because you'll feel more solid, certain, and frankly that things are easier (easier, but not perfect).
Parenting Teens: Action
In many ways I'm the master of getting pumped up to try something new and then fizzling out after a few weeks. When it comes to putting your parenting intentions into action, it is crucial to walk the walk, and keep walking the walk, until it becomes almost second nature. Modeling by way of what you say, what you do, and sharing about the values that matters most to you.
I see you amazing parents who love your teens dearly and just want them to be happy. Here's to 2022 being a year of loving intentions that nurture not only your teen, but you who are doing your very best.
Love,
Chantal
---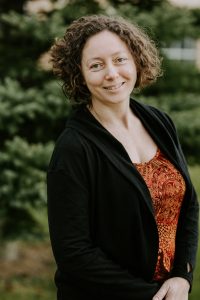 Chantal Côté (she/her) is a psychologist and teen life coach living in Calgary, Alberta. After over a decade in non-profit and community mental health, Chantal started Pyramid Psychology, a practice dedicated to supporting teens – a population she is constantly amazed by. Chantal is on a mission to help 100,000 teen girls (and their parents) build bulletproof mindsets so they can weather the ups and downs of life. As part of this goal, Chantal has had the privilege of speaking at various events – virtual and live – to support teens and parents.
Outside of this passion, Chantal is often in nature, writing poetry, playing ball hockey and hanging out with her loved ones.
Each week, Chantal writes a blog article in response to issues she hears from the parents and teens she connects with.
If you have something you'd like to read more on – email ideas and questions to info@pyramidpsychology.com or DM us via Instagram or Facebook.