Ahh, future planning for after high school graduation… You know those people who have always known what they wanted to do?
I am not one of them.
I remember having friends in high school who were so certain about what job they wanted to do and had thought of all the steps to get there – attend university X in city Y, and if that does not work then university A in city B. Plan A had plan B, and plan B had plan C. I admired the passion and certainty. However, I also couldn't help but wonder if there was something "wrong" with me because I did not have that same level of passion or certainty.
Everyone's journey is different, and I have learned that that is a beautiful thing. My journey has taken twists and turns, many of which I could not anticipate, and through a mix of choice, circumstance, and consequence, I have ended up where I am today. With this in mind, here are three tips for teens struggling with planning for after high school graduation:
Planning For After High School Graduation Tip #1:  Let Go of Unhelpful Expectations
Not everyone has that "Ah-ha!" moment or knows their dream job since they were little. There is likely no job that is 100% perfect for you, but rather a list of potential options. With every option, there will be things about the job that you like and things that you don't. The idea of the "perfect job", and the expectation that you need to know it at 17 or 18 years old, are beliefs that are likely not serving you well. 
If you are unsure of what direction to take, perhaps a better way to look at planning for after high school graduation is to view it as a treasure map. You don't know exactly how to get to the treasure, and you may not even know what the treasure is, but there are always steps to take and stones to turnover along the way. Even a "dead-end" can provide you with valuable information and experience!
Planning For After High School Graduation Tip #2: Be Intentional 
Whatever you are considering after high school graduation, it can be helpful to be mindful and try to make your choices with intention. If being mindful is a new skill for you, my colleague here at Pyramid Psychology wrote an article that you may find helpful: Mindfulness for Teens: The Good, The Bad, The Ugly!
There is no single "right way" to live your life or pursue your dreams, and there are so many ways to learn, grow, experience, and discover more about yourself and the world around you. Life after high school graduation could look like going to university or college right away, but it could also look like spending time working or travelling, taking a gap year (or two), getting hands-on experience, volunteering, or even taking a range of courses to see what interests you.
It is important to recognize that indecision is a decision. Indecision is not inherently right or wrong, but it may lead to discouragement and regret if it is your default state for a long time. It can end up feeling like your life is happening TO you, instead of you being in the drivers seat.
Planning For After High School Graduation Tip #3: Keep Moving Forward
With so many options and paths available, it can be easy to fall into "analysis paralysis" – dwelling, overthinking, and having thoughts spin and swirl around with no real progress or clarity. 
When this happens, try to narrow your focus, even if it is just by a bit. What interests you, makes you feel alive, or gives a sense of purpose?
Some of the teens I work with have found it helpful to take interest tests, personality tests, and/or career tests to begin narrowing the scope of options… This is probably the psychology part of me speaking, but I think they are also kinda fun! Here is a list of potential quizzes to try out: The 13 Best Career Tests and Quizzes to Help You Find Your Dream Job.
Whether you know your dream job, have potential ideas, or have no clue at all, I hope this blog has provided encouragement and given you something to think about. I have a variety of tools available to help you through the emotional side of planning for after high school graduation; it can be helpful to learn skills for handling this, and get a new perspective on things. You can book a 1:1 appointment with me through my booking link: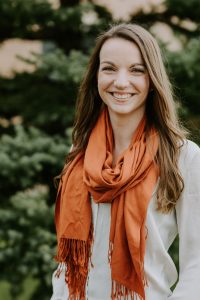 ---
Jessa is a provisional psychologist living and servicing teens and young adults in Calgary, Alberta.
Jessa is passionate about helping people become the best version of themselves and is continually learning how to best support her clients. She has experience with acceptance and commitment therapy (ACT) and cognitive behavioural therapy (CBT), but most importantly she emphasizes the therapeutic relationship.
A safe, authentic relationship is key for therapy to work. Jessa prioritizes compassion and nonjudgmental curiosity. Together, she can find out what matters most to you and how to get there.
If you think Jessa may be a good match for you, please feel free to reach out and set up a free consult or book a session. She is looking forward to hearing from you!
Once a month, she writes a blog article in response to issues she hears from the parents, teens and young adults she connects with. If you have something you'd like to read more on – email ideas and questions to info@pyramidpsychology.com or DM us via Instagram or Facebook.