The #1 Thing Teens Are Worried About
The Future. 
Does it fill your teen with excitement and possibility? Does it stress their brain out with worry and uncertainty? 
Many of the teens I work with say to me that the future is the Number 1 thing they worry about. The number 1 thing! More than friendships, more than what's happening at school, more than ….well everything. How am I going to make money? What do I want to do? Do I take a gap year or go straight to school? What if I make the wrong decision?
Today's teens are so informed and connected to possibilities that it can spin them into overwhelm so quickly. And if you've ever tried to make a decision from the place of emotions only (that chocolate cake looks so yummy and will taste so good and pleasurable)- you might know that it often ends up not being the best outcome (ooooiiii …. I really shouldn't have had that last piece of chocolate cake). 
I'm joking and not joking- when teens make decisions from that place of fear and worry, they often get stuck, procrastinate, get sick, self-sabotage or just downright avoid.   
The point of this blog is not to alarm you. Instead, I would like to give you nine tools to support you (a parent of a teen), and your teen to welcome the future with a little less worry and a little more tranquility.
Teen Anxiety & The Future Tip #1: Set small goals
Having goals – things you want to accomplish, change, improve, or just try can be a great way to spark motivation and excitement over fear. Yes, some goals may feel scary or stretchy, like when I decided to leave my non-profit job after 15 years in the industry to pursue my passion to help teen girls build bulletproof mindsets- sssccccarrrryyy! And exciting!
Even the stretchiest biggest goals are made up of a series of smaller goals to get you there. Start by brainstorming goals for yourself (e.g I'd like to run a 5km marathon, I want to raise money for the local animal shelter, I want to make a new friend, etc.) that you'd like to accomplish over the next few months up to 1 year from now. Then identify 2 or maybe 3 goals that feel like small, achievable ones. You might even find some smaller goals hidden within your larger goals (e.g. talking to the person next to me in class next Monday, putting on my running clothes and run/walking for 10 minutes, researching animal shelters in my area, etc.). These are your targets to start taking action on.
Teen Anxiety & The Future Tip #2: Road map with lots of refueling breaks

Having a plan can be helpful. Knowing that you have a roadmap to refer to or fall back on can help put your mind at ease. Less in the worry zone- more in the "I've got this" zone. You might go off course or choose to ditch your map, but just knowing you have one can be a great tool. If you think you might want to be an engineer and move to another city- great- What would that look like? Who could you talk to? What steps would you need to take to start heading in that direction? 
Plan for breaks along the way. Who knows what life is going to bring, so plan to refuel along the way. Take the time to map out some fun things you see in the roadmap, people you can go to, ways to relax, and so on.  
Teen Anxiety & The Future Tip #3: Use the wise mind strategy
A concept in DBT (dialectical behaviour therapy) teaches that you can look at a situation from 3 perspectives.
The first is to look at things from the perspective of your emotional mind…Kind of like tapping into the emotion parts of the brain which is fine tuned for survival, fight/flight/freeze and reactivity. Great for when you need to hide or run from a bear! 
Then you have your reasonable/rational mind…Your ultra logical thinking brain that relies on what has happened in the past to make decisions today; what information you can access, and what logic is telling you. Great for analyzing and calculating the possibility of something occurring. 
Now if you tune into where the emotional mind and reasonable mind overlap, you get the Wise Mind- the part that is aware of your feelings and is able to reason. It's the sweet spot in your thinking.
Now think about your thoughts of the future – are you considering it solely from your Emotional mind? Your Rational mind? What would happen if you looked at it from your Wise mind? 
Teen Anxiety & The Future Tip #4: Talk to the experts

There are folks who specialize in helping people sort out options for their future. Career counsellors, guidance counsellors, teen career coaches,  just to name a few. This article has some great tips on where to begin and who to talk to. 
Having a third party person can be helpful in many ways, including a coach or therapist. I offer teen coaching with a parent element, as well as 1:1 therapy. You can get to know my services HERE.
Teen Anxiety & The Future Tip #5: Get to know yourself
When I was younger and magazines were a big deal (aging myself here, haha), I was all over taking the quizzes. So many quizzes. I don't know how accurate the information was or how valid for that matter, but it was about getting to know myself better- and having some fun. 
Here are a few neat online tests that can give you a perspective on you (or your teen): 
Teen Anxiety & The Future Tip #6: Self-reflect on your values
What really matters to you? When you live according to the things that are most important to you- things just flow a little more. There is less room for anxiety, worry, and uncertainty when you are doing, saying, and behaving in ways that are in sync with what you value.
If you're not sure what your values are yet, you can start discovering them with this Values Card Exercise.
Teen Anxiety & The Future Tip #7: Enjoy the NOW

Growing your mindfulness skills will definitely help with future worry. Being mindful helps you tune into your experience in the "right now" moment. The brain can't be slipping into the future or dwelling on the past when it is being mindful of the 'now'. This can help you become more aware of your thoughts and feelings and bring some compassion and acceptance to your experience. 
I wrote a blog article all about mindfulness for teens that you may find helpful: Mindfulness for Teens: The Good, The Bad, The Ugly!
Teen Anxiety & The Future Tip #8: Schedule worry time
It's normal to experience worry. Everyone does. If worry and anxiety about the future are taking too much real estate in your brain, consider scheduling it in. 
Sound weird? 
Kim Pratt, LCSW shares that "whatever we do as humans over and over again, we get better at.  If we give in to our mind's pull to worry, at random intervals throughout the day, then the ability to worry will grow stronger". You can read more in this article.
So, in turn if you limit or schedule worries to a certain time, your brain gets better at processing those worries during those time periods.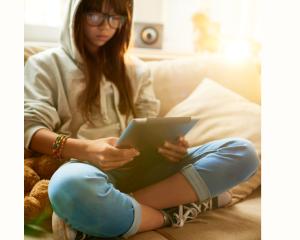 Note: I would highly recommend avoiding close to bedtime as one of those worry times. Opt for times that are convenient for you to have time afterwards to chill, connect, and do something enjoyable.  
Teen Anxiety & The Future Tip #9: Ask helpful questions
When worry strikes, it can be all too easy to start asking questions. But are those questions helpful? Or are they getting you stuck in the pit of despair?

Here are a few examples of flipping worry-creating-questions into calm-the-worry-questions.
Worry-creating-questions
Calm-the-worry-questions

How will I make money????

How many ways can I come up with to make a buck?

What if I don't get into my top College pick?

Where else would be interesting to go if I'm not going to my top College pick?

Which options have the best programs of interest for me?

What if I can't figure this out?

How can I figure this out? 

Do I take a gap year or go straight to school?

I wonder what I'd come up with if I did a Cost Benefit Analysis for each of these options? 

What if I make the wrong decision?

Most people don't figure out their future in a straight and narrow- how can I have fun and learn along the way?
Anxiety, including worries about the future, is on the rise for teens. With the access they have to social media, the news, etc., they are carrying worries that you and I never had to. I have developed a 4-month program, The Happiness Pill, to counteract some of the anxiety your teen daughter is dealing with.
The program starts with a road map for you and your teen of what you want life to look like – both for her future, as well as your relationship with her going forward. There are then several parent coaching sessions – an opportunity for you to build a relationship with other parents, 1:1 sessions just for your teen, adn weekly group sessions for your daughter to meet other teens dealing with similar things. I give your teen the tools to handle her anxiety in a healthy way that leads her to a life of presence and joy. It will give her tools well beyond her current worries; tools that will carry her into the future. 
See the FAQ section on The Happiness Pill website for more information. You can email info@pyramidpsychology.com to get on the waiting list for the next intake as well.
Here is to a future you enjoy.
Love,
Chantal 
---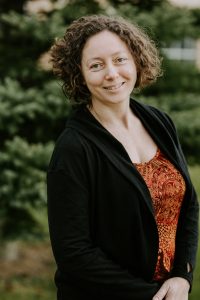 Chantal Côté (she/her) is a psychologist and teen life coach living in Calgary, Alberta. After over a decade in non-profit and community mental health, Chantal started Pyramid Psychology, a practice dedicated to supporting teens – a population she is constantly amazed by. Chantal is on a mission to help 100,000 teen girls (and their parents) build bulletproof mindsets so they can weather the ups and downs of life. As part of this goal, Chantal has had the privilege of speaking at various events – virtual and live – to support teens and parents.
Outside of this passion, Chantal is often in nature, writing poetry, playing ball hockey and hanging out with her loved ones.
Each week, Chantal writes a blog article in response to issues she hears from the parents and teens she connects with.
If you have something you'd like to read more on – email ideas and questions to info@pyramidpsychology.com or DM us via Instagram or Facebook.