Being connected online is pretty much the standard for most teens. They are online for school, social life, entertainment, distraction, information – you name it, they are online for it. This is also an important time in their lives where they are increasingly curious and explorative in their sexuality and relationships.
What happens when we mix the online world and sex cocktail? This is tricky, not going to lie… Some days you may have the urge to throw out their phone and ban them from all potential online threats lurking around the corner. Of course this is one option, but probably not the most feasible. Not to mention it takes away the opportunity for them to learn the skills on how to engage online safely.
When it comes to relationships, sex, and dating, teens are definitely having most conversations online. So, how do we encourage them to hit those normal developmental milestones around sexuality and relationships while staying connected to the online world safely? I'm approaching it this way – learning about the threats, keeping the conversation open and ongoing, and equipping them with knowledge to make informed decisions.
Some of the things I did as a teen like flirting, passing notes, and experimenting with relationships and dating have online versions today. One of the main differences is that when I said or did something I felt embarrassed about, it was something that felt terrible in the moment and eventually within a day or two (mostly) went away. Online posts and conversations have a more permanent shelf life and that can lead to more significant consequences.
Here are some of the potential online threats when it comes to relationships, dating and sexting:
​Sexting – Dr. Elana, in her article Sexting: What Parents Need to Know, describes sexting as "sending or getting sexually explicit or suggestive images, messages, or video on a smartphone or through the Internet." If your teen has access to the internet and a device, they are exposed to the potential of this kind of interaction.
Dr. Elana also discusses the reasons why teens may be sexting which range from relationship related, as a joke, and in response to peer pressure – to name a few. Teens may see sexting as a relatively safe behaviour if they are in a relationship and context where they feel safe. But, the reality is the content that is posted can easily be spread to others (intentionally or accidentally) who your teen may not feel so good about sharing with. 
Revenge Porn – This wording has been criticized by some so it also goes by 'non-consensual pornography' and 'image-based sexual abuse'. The sharing of photos with others or on online platforms via hacking and/or without the consent of your teen by someone like an ex would constitute as non-consensual pornography. Glamour magazine UK wrote a few pieces that share about the impact of this kind of experience on young people. Unfortunately, the frequency of this type of violating behaviour has been on the increase since the pandemic.
Pornography – What defines pornography differs over time and within cultures. According to Stanford Encyclopedia of Philosophy pornography are any materials (image based or words) that are sexually explicit. Arguably there are some risks involved in teens viewing these materials. Pornography can perpetuate messaging around sexual behaviours that are inappropriate (e.g. lack of consent.) It can also offer perspectives on sexuality that are biased and without a lot of context.
​Online Predators – There are people online who definitely do not have your teen's best interest at heart. The thing is once a photo is posted online there is very little way to control who may see it and what is done with it. If it comes across a sexual predator, your teen is at risk for being sexually exploited. Media Smarts, Canada's Centre for Digital and Media Literacy writes that online predators rarely lie about their age and motives as seen in movies and shows. They often build relationships with youth and take advantage of that trust. Oftentimes the predator is someone the teen knows.
… Are you heading upstairs right now to confiscate your teen's phone? Hopefully you'll stick around and read about how you can really help your teen navigate this online world.
Keep The Conversation Going
Talking about online social media use and how your teen wants to be known is an important step in keeping them safe. Knowledge and choice are powerful guards against exploitation. Does this mean they won't make mistakes when it comes to dating, sex, and relationships online? Nope. But it does mean they'll think twice before posting and maybe even make choices that keep them safe most of the time.
Start by being clear about the online threats you're concerned about. It may be awkward at first, but if that pathway of communication is open, they are more likely to let you know if something isn't feeling right to them.
Rachel Simmons suggests discussing some of the following topics when talking to your teen their social media use:
What they love about their social media platforms – get to know what they're on and their favourite part of it
How they are using social media
What they want their social media account to say about them – look at encouraging it to be speaking about who they are over proving something to someone else or self
Encouraging social media as a point of connection to others instead of point of competition and comparison
How they can use social media to share about things, issues, and people they care about
The consequences of using social media as a platform to seek approval from others or ask what others think of them
​Ask them to be curious about the intention, the why, and how they feel about what they post
Some Other Ideas For Parents

Having rules and expectations around online behaviours can help create clarity and protect your teens from some online threats. MediaSmarts and Privacy Canada have great resources for parents and youth to check on how to stay safe online, relationships, cyberbullying and more.

You may also consider having shared accounts where you can check-in once in a while on things. Encourage your teen to have usernames that don't reveal personal information and to password protect their accounts (you may want to know those passwords.) You may have limitations and rules around which social media apps and sites are to be used.

Having device use in a more common space in the home can help promote safe online use. I know this can be challenging especially nowadays when people are working from home and home more often.  Having privacy and needing space may override the desire to have device use be in a common area. This is a topic for negotiation and collaboration to figure out what works in your family.

Have limits on online use. This might entail having everyone leave their phones in a common space at bedtime or having a time where internet use is restricted.

Keep an eye out for things that seem off. If your instinct is saying something is not right, chances are there is something going on. If your teen's behaviour suddenly changes, their response to getting off their online platforms is extreme, or they seem more secretive about their online use, this is something to pay attention to.

A final word. I do have an opinion on this. Youth need to know that even if they make a mistake when it comes to their online presence, they are not going to be shamed. In the case of teens who have become victims of non-consensual pornography, there are still too many stories that victim blame, punish, and shame the person for having taken the photos in the first place instead of taking action against those who shared without consent.

Let's help our teens confidently navigate the world of dating, sex and relationships online by supporting, teaching, and learning from them. That way we empower them to make informed choices!

Love,
Chantal
---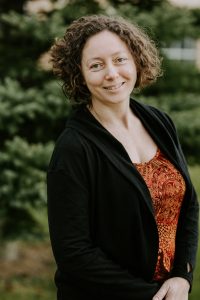 Chantal Côté (she/her) is a psychologist and teen life coach living in Calgary, Alberta. After over a decade in non-profit and community mental health, Chantal started Pyramid Psychology, a practice dedicated to supporting teens – a population she is constantly amazed by. Chantal is on a mission to help 100,000 teen girls (and their parents) build bulletproof mindsets so they can weather the ups and downs of life. As part of this goal, Chantal has had the privilege of speaking at various events – virtual and live – to support teens and parents.
Outside of this passion, Chantal is often in nature, writing poetry, playing ball hockey and hanging out with her loved ones.
Each week, Chantal writes a blog article in response to issues she hears from the parents and teens she connects with.
If you have something you'd like to read more on – email ideas and questions to info@pyramidpsychology.com or DM us via Instagram or Facebook.