May is Mental Health Awareness Month, but let's face it – Every Day should involve mental health awareness, especially at this time. The constant unknowns, missing out on friends, grads, sports, social gatherings and changes occurring in response to Covid-19 are sending many teens into a spiral of overwhelmed and anxious emotions. As parents and adults, you may be finding yourself in a similar situation where it is hard to look on the bright side or find motivation to get yourself out of this rut.
Are you noticing your teen spending hours in their room? Do they lack energy and motivation to get their tasks done?
Let's talk about mental health and how to know when your teen is needing more support.
Making mental health a top priority can help flip things around for your teen. You might already know that if you want to feel better physically, you figure out the gaps and make changes to things like exercise, rest, and eating habits. Just like your physical health, if you want to feel better mentally, it starts with figuring out the gaps and making changes that will support your teen feel better.
Let's break this down into 3 sections:
Your Teen's Current Level of Functioning
Red Flags That Your Teen Needs Extra Support
How to Help as a Parent
Your Teen's Current Functioning
How is your teen doing? There are 5 main areas that you can take stock of that will help you determine how they are doing. The first area is their current supports. Paying attention and asking questions to learn about their friend groups and their connections is the place to start. Supports may be peers, adults or even pets! Be curious about who your teen is talking to – is it you? An older sibling? A teacher? Their best friend? They don't need to have many people, but it is important to have a few options.
The second area that influences teen mental health is current stressors. Stress is not always a bad thing – it can help your teen prepare for a test or perform in their sport. However, there's a tipping point where stress zaps energy and motivation away. You can try checking in with your teen by asking things like:
What are 3 things you think about most of the time? 

What's been stressing you out lately at school/with friends/at home? 

What's one thing (or person) that's been annoying you lately?

If you could take one thing away from your daily tasks what would it be? 

How would you like to spend more of your time? (The answer to this one may surprise you!)
Dialing into what kind of stressors are most impacting your teens right now will give you an idea of how they are doing.
Once you know what's stressing them out, then you want to know how much this causes issues. In other words, how much is the problem disrupting their day to day? Is their stress keeping them up at night? Is it something they think about every day? Are there physical effects caused by the stress – like headaches or stomach aches? Stress in small doses can build your teen's stress resilience or, in other words, their ability to deal with stress. I wrote a blog specifically on stress – Why Stress About Stress – A Teen's Guide to Handling the Ups and Downs – which includes the different zones you can pay attention to.
Next, you want to have a sense of your teen's coping strategies. How do they deal with their problems and challenges? I often talk to teens about the concept of ESD (express. soothe. distract.) Although it is important to build coping strategies in all of these areas for the best mental health outcomes, people do have a tendency to have a more dominant way of handling struggles – and that's ok.
Express is all about finding ways to let out the thoughts, feelings, and energy behind what is troubling you. Express could be:
Talking to a friend
Going for a run
Listening to music
Painting or drawing
Creative writing
Journaling
Screaming into a pillow
Tearing paper
Crying
Soothe is about finding ways to calm your mind and body. It's like helping your nervous system do a little reset. We all need a little reset sometimes. Soothe could be:
Crying
Hugging
Going for a walk
Taking a nap
Wearing a favourite sweater
Giving yourself a hug
Having a warm drink
Taking a bath
Massage
Meditation
Yoga
Distract is usually the dominant one for most teens that I first start working with. Anything that gets your mind off the problem can be considered a distraction. Some examples are:
Watching TV, YouTube, or social media
Hanging out with a friend
Going for a run
Playing video games
Playing with your pet
Finding something funny
Cooking/baking
Creating art
Listening to music
As you may have noticed some coping skills fit into more than one category. It depends on the outcome – what does this coping skill help me do: express myself, distract myself, soothe myself, or a bit of everything? To give your teen a whole list of coping strategies to try, download our free Mental Health Handbook for Teens (illustrations done by a teen!) here.
Last and certainly not least is whether they are asking for support. If your teen is saying they'd like to talk to someone or they're not sure how to handle things, this is important to listen to. You can read about the different supports I offer in my blog article: Everything You Need To Know About Therapy – On And Off The Couch.
Red Flats *Pay Attention To These!*
You may have a decent idea of your teen's current functioning. In the above conversations, you may have even brought some of those pieces to your teen's awareness. Teen's are going to have ups and downs – it's part of being human and especially part of being a teen human. Here are some red flags; things you want keep an eye out for that will let you know your teen's mental health is suffering:
Your teen is feeling worthless, hopeless, helpless, or rejected
You notice a major lack of energy or motivation in daily activities
There are sudden changes like withdrawing or isolating themselves from things
A significant decline in school performance (e.g. super hard to concentrate or get motivated)
Consistent trouble concentrating or thinking clearly
Trouble sleeping or eating

Decline in personal hygiene beyond the typical stuff (

here

 is an article you can read on this topic)

Your teen has a lot of negative thoughts, or thoughts that spiral down out of control (e.g. thinking of dying or suicide)
Your teen says they are hearing voices or seeing things that others don't
How To Help as a Parent
1. Put your oxygen mask on first. I'm not a fan of "musts and shoulds" most of the time, but this one is imperative! You must take care of yourself in order to support your teen. If you are burnt out, overwhelmed, or crazy stressed, you not only don't have the energy to help your teen, you also set a precedent on how to take care of yourself and your mental health.
Stop. I don't want you to make yourself wrong or bad about this. Just notice. Pay attention to how you take care of your own mental health. What message do you think it is sending to your teen about how to take care of their own mental health? What is the message you would like them to pick up about their mental health? Check out this resource on avoiding parent burnout!
2. Making time to listen and check-in with your teens on a regular basis is important. It doesn't always have to be on the topic of mental health of course, but that topic needs to be on the table for discussion. Some teens have said to me they enjoy going for drives with a parent or going for a walk and just talking. Others have check-ins with their parents just before bed or around the dinner table. You can collaborate with your teen and find ways that work in your family to have undistracted, tech free conversations on a regular basis.
3. Ask how you can help. If your teen is struggling with a specific issue like anxiety, school stress, friendship stuff, start by asking them how you can help. You can give a few ideas if that question is met with I don't know or a dazed look. Sometimes I will ask 'are you looking for ideas to resolve the problem or to vent and just have me listen right now'?
4. Get help from others. Hook your teen up with resources that are specific to supporting their mental health. Here are just a few:
​
Connecteen text daily – 587.333.2724 (Calgary region)
Distress Centre (24/7) – 403.264.8336 (Calgary region)
Kids Help Phone – text 686868 (National)
Mindshift App (and much more)
If you decide after your mental health check-up with your teen that it would be helpful to work with someone, connect with us over at Pyramid Psychology 403.812.1716 (call or text) or email us at info@pyramidpsychology.com.
Love,
Chantal
If you found this post helpful, pass it on by emailing a friend or sharing it on Twitter or Facebook – Thanks!
---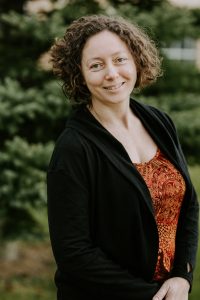 Chantal Côté (she/her) is a psychologist and teen life coach living in Calgary, Alberta. After over a decade in non-profit and community mental health, Chantal started Pyramid Psychology, a practice dedicated to supporting teens – a population she is constantly amazed by. Chantal is on a mission to help 100,000 teen girls (and their parents) build bulletproof mindsets so they can weather the ups and downs of life. As part of this goal, Chantal has had the privilege of speaking at various events – virtual and live – to support teens and parents.
Outside of this passion, Chantal is often in nature, writing poetry, playing ball hockey and hanging out with her loved ones.
Each week, Chantal writes a blog article in response to issues she hears from the parents and teens she connects with.
If you have something you'd like to read more on – email ideas and questions to info@pyramidpsychology.com or DM us via Instagram or Facebook.