Teen Mental Health
If I have to use one more tissue, I am calling up my investor to buy shares in their company! Being sick can sure slow things down and get you thinking…
My thoughts have not always been great company. Over the years, I've learned that even unwelcome company can be ok with the right approach. 
My mental health has had highs and lows over the years. In my teens and right after having my kiddos are times that I distinctly remember struggling to be well. And thanks to A LOT of self-reflection and some trial and error, I've come up with a pretty solid mental health routine that feels like the right panacea of care for me. 
What is mental health anyways? I look at it as anything related to your overall well-being (your mind, body, heart, and soul). 
I know it's not a one size fits all. Even sometimes my routine doesn't prevent me from having bad days or tough feelings. What it does though is help my mind be in its best possible state to sit with and go through life experiences. And it helps me bounce back from difficult times and cherish beautiful moments. 
If your teen daughter is struggling with her mental health right now, don't give up – there's light at the end of the tunnel. Having a teen struggle is also taxing on your own mental health as a parent. So I'm sharing the things I include in my mental health routine in the hopes to inspire you (and your daughter) to be curious to try out your own mental health routines to see what works for you.
Teen Mental Health: Ideas for Your Mental Health Routine
Meditation

– I meditate each morning before I start the action of my day and really find it settles my mind.

Exercise

–

Over the years my exercise routines have changed. I definitely try to get 30 minutes of movement each day (except for days like today where I'm not well)- even a walk counts on days where I have less energy.

Sugar lows

– This is the biggest challenge for me, but I know when I eat less (and sometimes no) refined sugars I am my most calm and even self. Kicking the sugar habit is one that I struggle with the most.

Reading

– Whether I'm reading for entertainment or learning, immersing myself in a good book is so good for my mental health. I try to read a little each day.

Podcasts

–

I love to learn and love stories, so podcasts are a great way to connect with both of these. In fact, the Hard As A Mother Podcast is a wonderful resource for parents. You can find their episode on teen mental health (featuring me) here:

E

p. 38 Mental Health in Teens f. Chantal Cote

.




 

Art

–

I don't do this every day. Some weeks I spend more time writing poetry and drawing, other times I am appreciating other artists and their creations. Being around art and allowing myself to be creative is very important for my mental health.

Friends

–

Connecting with my friends, hearing about their lives, laughing and being there for each other is something I notice when I'm neglecting. If your teen doesn't have a lot of friends and you're worried about it, I wrote a blog article specifically for you! You can read it here:

My Teen Doesn't Have A Lot of Friends – Should I Be Concerned?

Laughter

–

This is like medicine to me and I can tell when I haven't been laughing or playing much. Sometimes I put on a cheesy romantic comedy movie to get me laughing. I've also been to laughter yoga a few times which was remarkable and strange at the same time.



Time with Loved Ones

–

I do like solo time to recharge my batteries. I also know that spending time with the people I feel most connected to fills me with love and gratitude.

Trying new things

–

I have to step out of my comfort box and remind myself of this one. When I do, my brain and body light up- it is important to live a life of adventure for me.

Time with animals

–

I feel honoured to have a special bond with animals and as soon as I am with them, all my worries melt away.

Volunteering

–

I have been volunteering since I was a teen. Contributing and doing things for others makes me feel good and it makes a difference in their lives so it is truly a win-win.





You can find 50 ways to involve your teen in community service (as well as volunteering) on the TeenLife blog

HERE

.

Organizing

–

This one is also a challenge for me for my creative brain, but I definitely feel more calm in a space that has order. I usually pick a small area to organize and feel my blood pressure drop at the finished product.

Physical Touch

–

Hugs, sitting on the couch with toes touching (I know it makes some squeamish), snuggling, even high fives, I do like feeling physically connected to others.

 

Affirmations

–

Lately I've been using an app that sends me affirmations a few times a day. I appreciate reading the statements, they remind me to take a moment to breathe and think about something positive. 

Being part of support groups

–

This has changed for me at different times. Currently I'm part of a few different groups of people who encourage each other while sharing their gifts and talents with one and another.





a 4-month group program I designed specifically for teen girls experiencing struggles with perfectionism, anxiety, or depression. Teens get some 1:1 appointments on me for specific tools, as well as weekly calls with teens experiencing similar struggles as them. For parents, there are 8 group calls – the best part about these groups so far, has been the community the parents have built! You can read more about the program HERE – it is available online for anyone in North America!

Learning something new each day

–

I enjoy gaining new knowledge and new perspectives. Learning is informal and can come from many different places including the people I meet each day, the resources I read and listen to, the new things I try, and so on.

Walking in nature

–

As soon as I am outside and hear the sounds of nature and look at incredible landscapes, I am hooked- being in nature is definitely my happy place. It can be seaside or mountainside, I'm not picky.  

Dreaming and setting goals

–

I can't say enough about having something to go for. It has been important to me to have a sense of purpose and be moving towards a goal or an idea. I find it fuels me greatly.

Loving and Gratitude

–

The opposite of goal setting for me is taking the time to be in the moment and to appreciate everything right in front of me. Each day I take the time to say in my mind what I am grateful for. My mind then gets better at noticing small things throughout the day that are special and delightful.





You can read more on the science behind gratitude for teens in a blog article Jessa Tiemstra wrote, a Provisional Psychologist on our team:

Teen Happiness: The Science Behind Gratitude

.
I'd love to hear what is part of your routine! You can email me any time with your ideas or questions at info@pyramidpsychology.com.
Teen Mental Health: Free Anxiety Toolkit for Parents Raising Teen Girls
If your teen daughter is a high achieving girl with big dreams, who is being held back by struggles with perfectionism, anxiety, and/or depression, the Anxiety Toolkit for Parents Raising Teen Girls is for you. You will receive a free PDF with 10 tools you can immediately implement to support your daughter, alongside several free webinars with various topics for improving your relationship with your teen. You can download your copy here:
Talk to you soon
Love,
Chantal 
---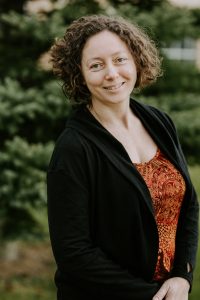 Chantal Côté (she/her) is a psychologist and teen life coach living in Calgary, Alberta. After over a decade in non-profit and community mental health, Chantal started Pyramid Psychology, a practice dedicated to supporting teens – a population she is constantly amazed by. Chantal is on a mission to help 100,000 teen girls (and their parents) build bulletproof mindsets so they can weather the ups and downs of life. As part of this goal, Chantal has had the privilege of speaking at various events – virtual and live – to support teens and parents.
Outside of this passion, Chantal is often in nature, writing poetry, playing ball hockey and hanging out with her loved ones.
Each week, Chantal writes a blog article in response to issues she hears from the parents and teens she connects with.
If you have something you'd like to read more on – email ideas and questions to info@pyramidpsychology.com or DM us via Instagram or Facebook.